Here I am again with another guest designer post for Doodlebug Designs! There is a fun little giveaway as well.. Do stop by THIS doodlebug blog post, or keep reading for more info!
Doodlebug sent me the super cute, bright and fun collection 'Colorwheel' along with some yummy Doodle Twine, Mini Jewels, and the swiss dot 'Create a Card' set! I opened my box and was blinded by the beautiful bright colors after working with some much Halloween stuff it was a nice change of pace(back when I got these goodies was around Halloween).
You can see all the pretties in this collection RIGHT HERE Darling, right?
The colors in this project just look so pretty on my blog, don't they?
The cheerful colors and pretty stickers made me feel all girly.. well.. not that I ever feel manly or anything, lol.. but I thought it would be so fun to make a little 'Birthday Girl' set! So.. that's what I did! It was actually really quick and easy with these fun embellishments!
How's that for some COLOR?!
Here are some detail shots for you, along with a few designer tips.
The hat.. *sigh* hats are totally my thing right now.. I have another one in the works.. and my cover project for Cricut magazing this month is a party hat! This one was made using THIS freebie SVG file from SVGSCUTS.COM..  I did size it down a little.. makes it a little smaller for a kiddo.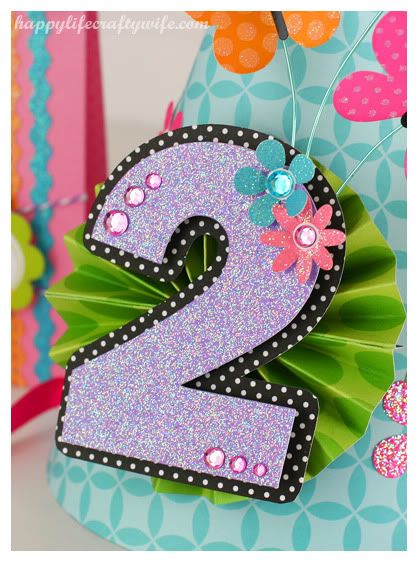 Do ya see the SPARKLE?! How can you miss it, right? Great glitter paper! And my new Sizzix Eclips cut it GREAT! I always had problems cutting glitter paper with my old Cricut Expression…
I added some 'fluttering' butterflies with matching blue wire. You can adhere the stickers to cardstock and trim them out with a craft knife.. that way a butterfly doesn't get stuck on something.. like a kiddos hair.. ouch!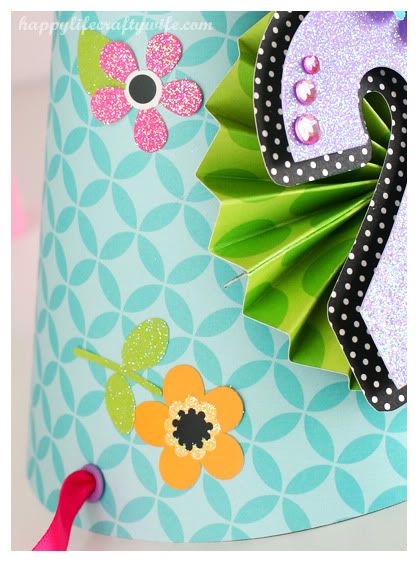 Add eyelets with ribbon to tie it onto the childs head.. or you can use elastic thread.. but the satin ribbon looks nicer
Embellish the hat with stickers, rosette, etc. I used Glue Arts U-Cut it foam to make some things pop!
Now the fun little card! I love the 'Create a card' kit.. totally easy to make a simple and cute card!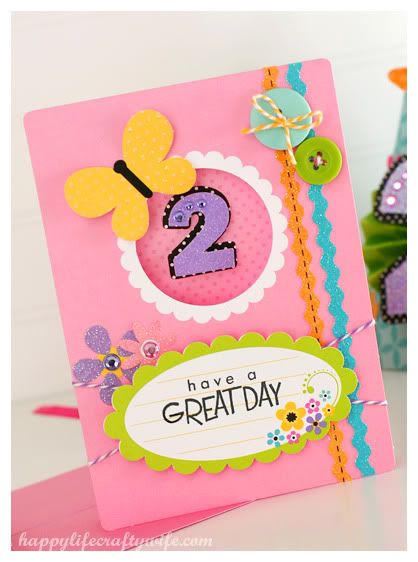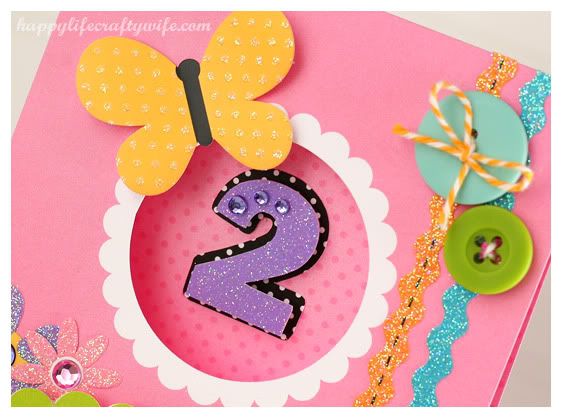 And here is the cute #2 pin for the birthday girl to wear! Easily created with two strips of paper and a paper rosette! Add the Doodlebug die-cut and embellish! My rosette is about 3.25″ diameter and each tail 'strip' is 1.40″ wide.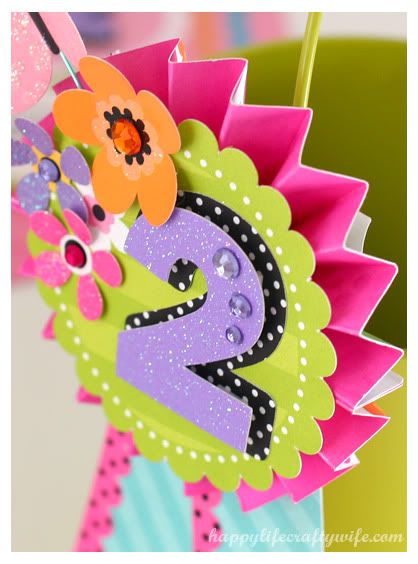 Welp, that's it for now! What do you think?…
GIVEAWAY INFO!
Take the time to do one of two things….
1. Visit Tamara's blog today (you're here!!!) and FOLLOW her blog or subscribe to updates.
OR
2. Leave a comment on Tamara's blog post that coordinates with this one! (leave me some loooove!)
OK.. off to get busy over here! More projects are waiting for me to finish them up!
If you came here from the Doodlebug Blog, I would love for you to 'like' me on Facebook! Happy Life, Crafty Wife
Have a great day, everyone!