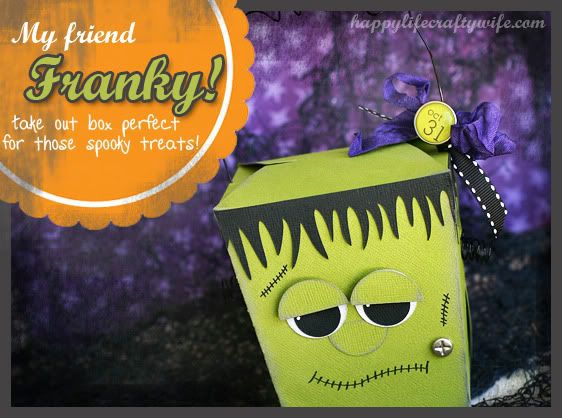 Hey all! Yep! It's another Halloween craft! Sorry, I just can't help it… I love me some Halloween and have a LOT of projects planned out! Don't forget you can easily access my Halloween projects from my top navigation menu! I've only been crafting for a year, but there are several cute ideas so far!
Now, I will admit this is not my 'original' idea. I bought a kit that came with things to make my own Frankenstein take out boxes a couple years ago. That project is what actually made me think about getting a Cricut last year! Here are the 'original' boxes from the kit (ignore the bird, it's a graphic form my old blog..):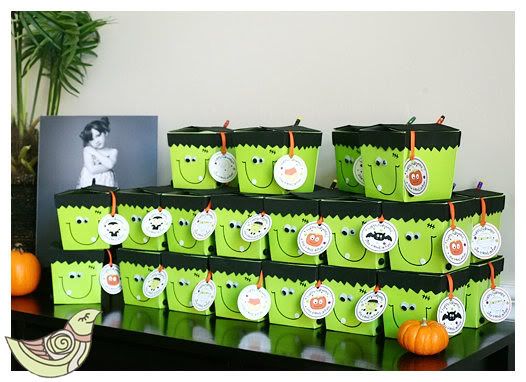 Cute, right? And yeah, buying a kit adds up when you have 28+ students in a class! I finally sat down this morning and made my own version! My first place to go when I need great 3D SVG files is SVG Cuts! I knew they had a take out box in the 'Crush on You' Valentine's set and it worked perfect and SUPER easy to assemble!
Here are some more pictures of my completed project!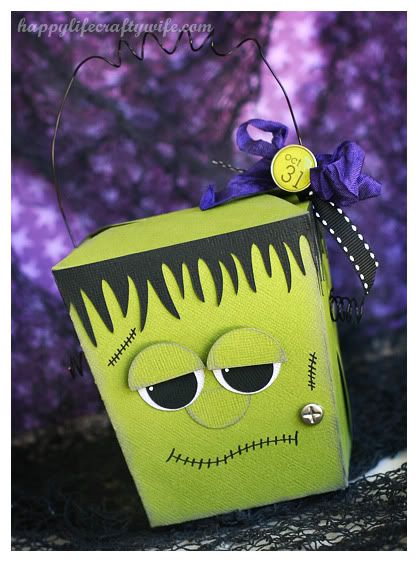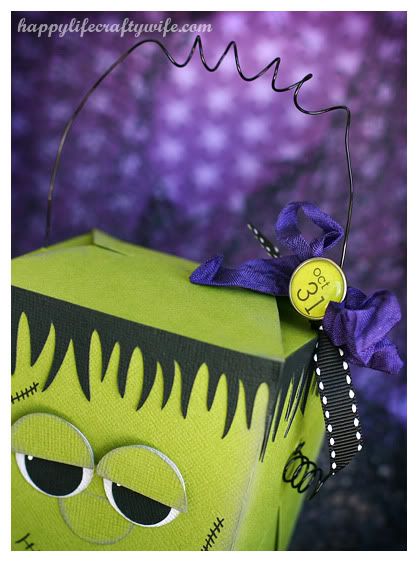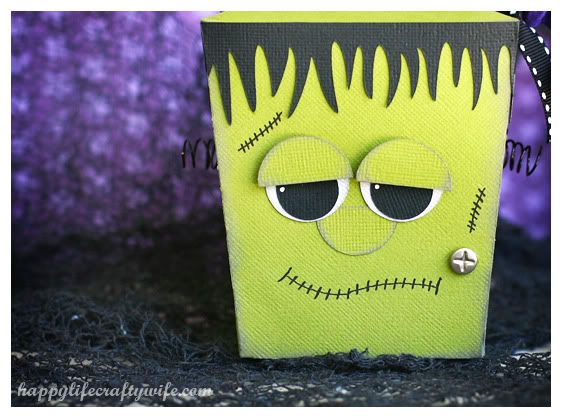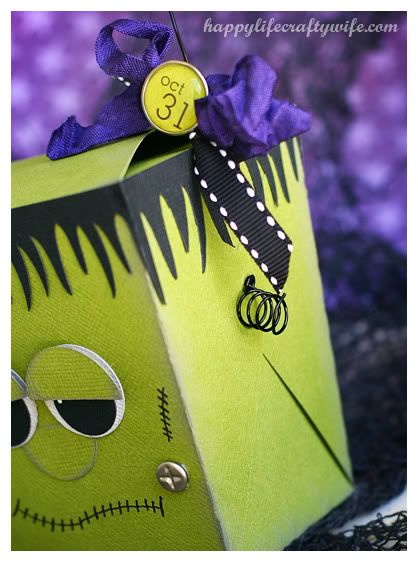 If you'd like to make one here's whatcha' gotta do:
Head to SVG Cuts and buy the 'Crush on You' and ' Easter Morning Egghunt' (this is just grass for the hair, so you might already have a grass file or you can use a cartidge?)
Cut your box in a green that you like.. I used A deep mossy green from my 'Autumn' stack of AC cardstock.
Assemble your box. SVG Cuts already has fold lines so it's easy to figure out!
On the side where the little hole is, add a small eyelet.
Ink the edges. I used 'Antique Pewter' from Color Box. Love this color for Halloween projects!
Cut the grass at 4.00w and 1.25h with 'keep proportions' UNCHECKED. You will use the grass as hair and trim the edges neatly.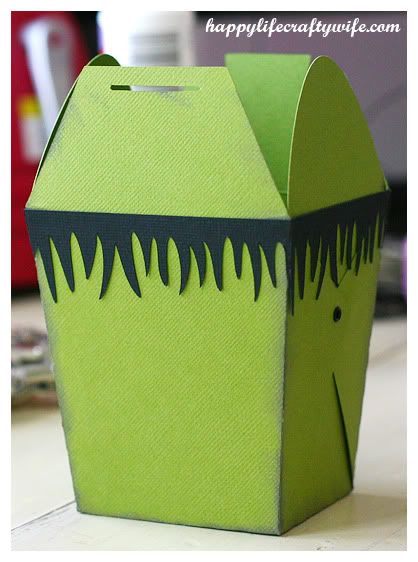 I wanted my wire (20g jewelry wire) to twist out the ends to look like 'bolts'. Wrap the wire 4-5 times around a pen or pencil to coil it.
Since the box was made to have the string/wire go through the sides and not come out of the side like shown, I just cut slit.. a sloppy one, lol.
I added a loose coil in the middle of the handle to add an extra sumthin'… Then it's time to add the face!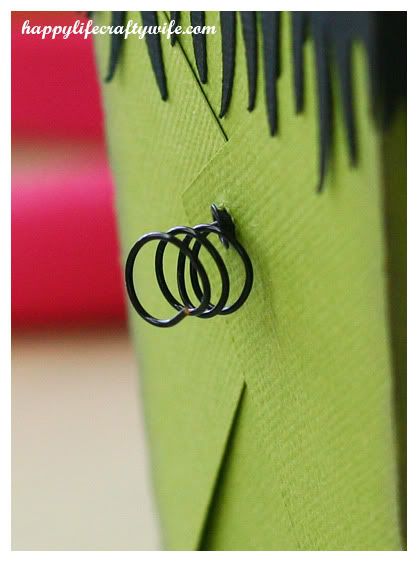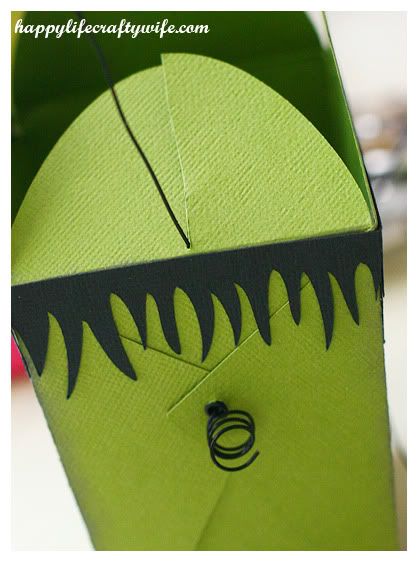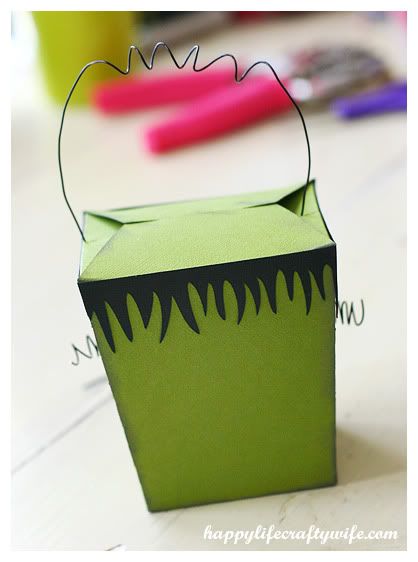 The facial features are all cut from the SCAL (or MTC) shapes library. Cut the following:
Two white circles (I used very light grey for the 'whites' of the eyes, looks great in person!) Cut two at 1.00″.
Two black circles at .75″.
I cut a circle for the nose and then trimmed off 1/4th of it. Cut the nose at 1.00″.
Half circle eyelids are cut at 1.15″w.
Assemble as shown.. I used 3D foam adhesive to pop the eyelids up a bit!
The mouth and stitches were hand drawn.
That's it! Embellish with twine, ribbons, a tag, etc! Fun for the kiddos, too!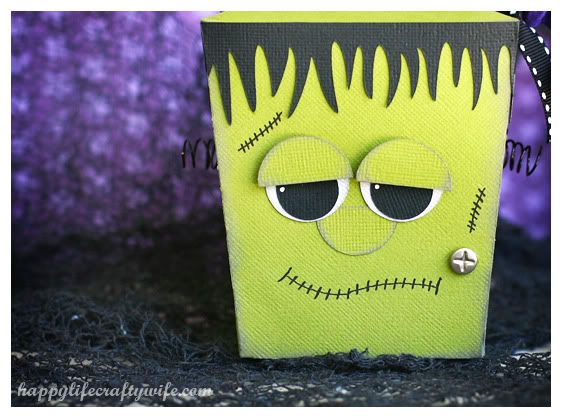 I hope you like it! If you make some, please stop by my Facebook page to share!
I have a couple more projects to share this week so keep an eye out!
Toodles!