Hey, hey! How's your weekend going? Mine is crafty as ever, of course! This weekend I am still working on my DIY Halloween decor, plus sneaking in some paper crafts! I finished up my last DT project for this month for Carta Bella, so fun! Can't wait to share my projects with you all!
Today I decided to do some kiddo crafty time with my younger daughter (Older one's not here.. and the boy was playing Batman). We knew right away what we would make after seeing this new kit release from SVG Cuts!
Kit is Acorn Autumn
My daughter has a 'thing' with collecting acorns.. or.. 'nuts'. She swears someday she will make a necklace from them, lol! So of course she needs a place to put her nuts, right? (because I am pretty much over keeping them 'safe' in my nightstand for her) So.. we made ourselves some 'nut holders'.
Now, I gotta say.. When I pulled up the PDF and saw all those tabs to glue for this container, I knew it was going to be a disaster. She just got over not feeling well and with not being 100% and all those tabs everywhere, she'd throw in the towel in minutes and whine at me to finish it for her.
I was wrong… Boy, was I wrong! I made one right along side her and she watched me VERY carefully. All I did was tell her where to glue and she did it.. all by her 7 year old little self! And she was soooooo proud! We craft all.the.time together, but this was something new.. 'harder' I suppose. Like the 'big' crafts mommy does.
So, I of course saw her enthusiasm and HAD to take photos to share.. she was so into it! So, here's some photos of my little Alannah buggy making her 'nut holder'.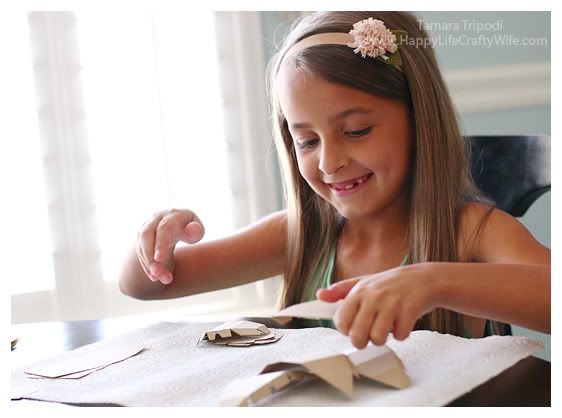 The girl was all smiles! She said it was like a puzzle and was "so cool".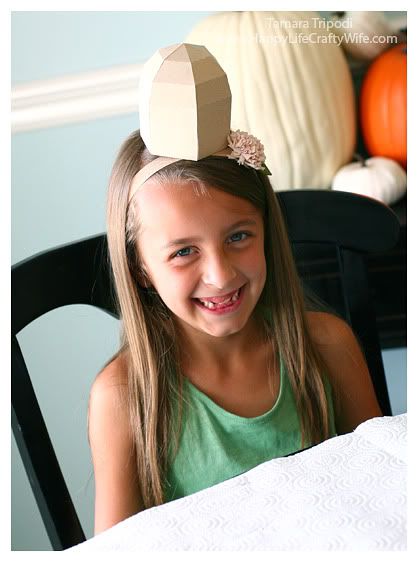 When she finished the bottom, she realized it was a fabulous hat! LOL! My silly goose!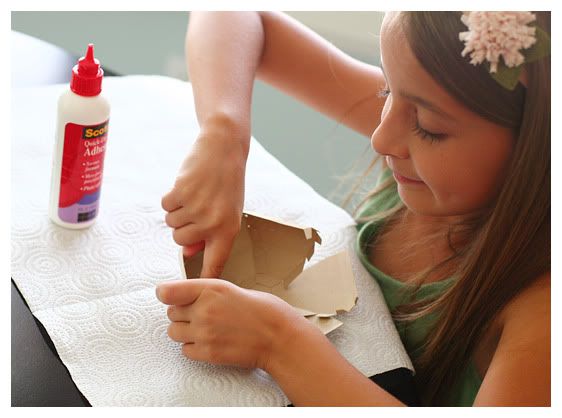 The lid was a little challenging for her.. tiny, tiny tabs! Good thing she has tiny fingers! She did great! I was about to have her do mine!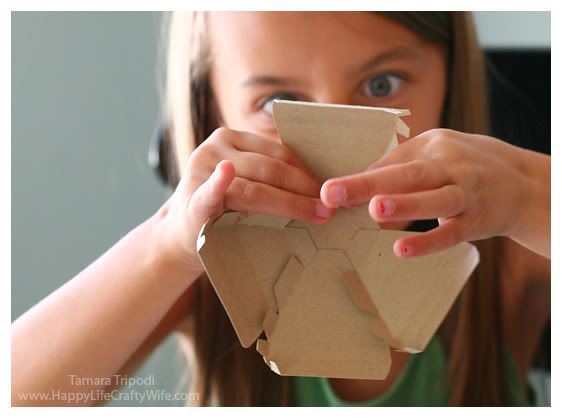 This picture totally makes me smile.. man, she is concentrating! lol.. This must be her 'crazy crafty face'.
I am pretty sure that toothless grin shows her excitement over her new nut holder!!! She did it!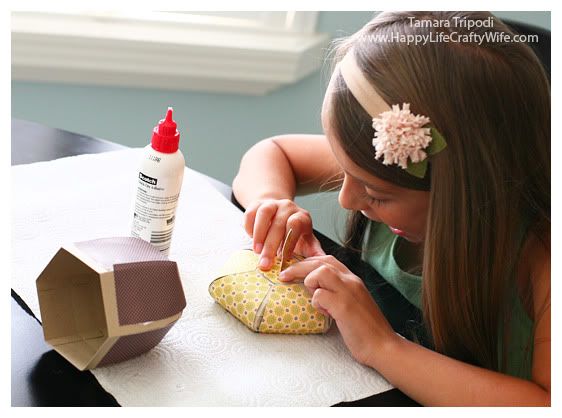 Time for finishing touches… then…..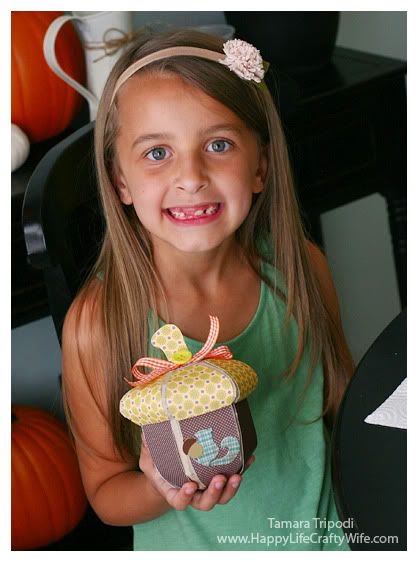 TA-DA!!!!!!! She picked her own paper, ribbon, button and stickers.. and of course adhered everything on her nut holder
Here's the group shot! I think her acorn is better than my two *wink*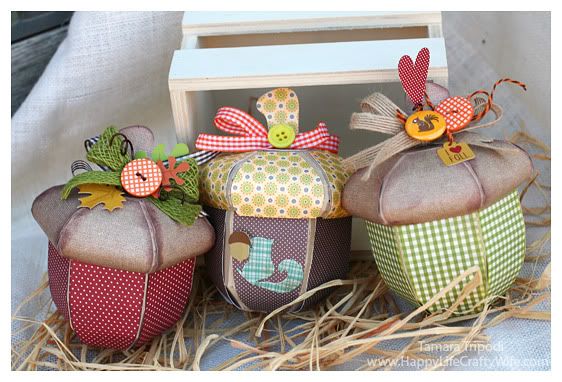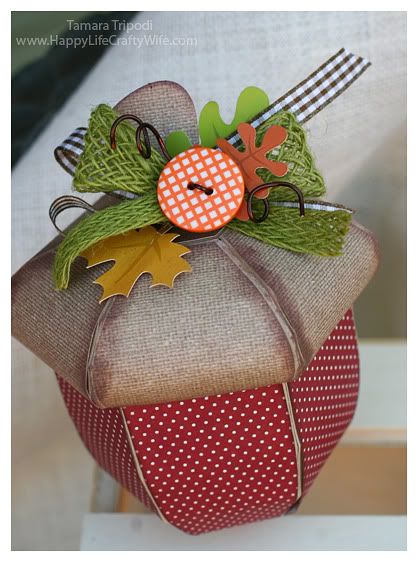 (Totally messed up the inking here.. grabbed the wrong color.. gah!)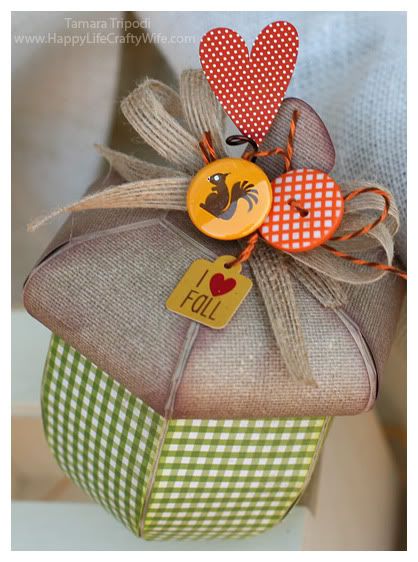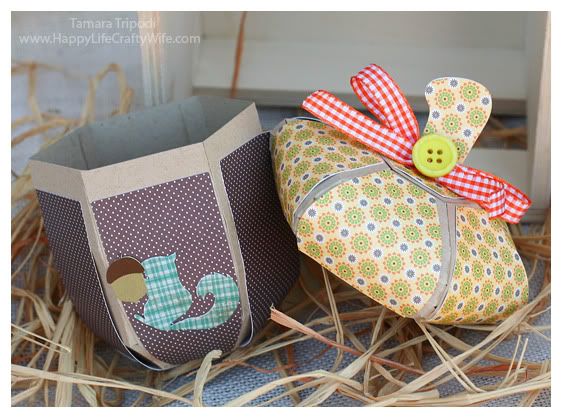 There's her's all opened up! And what's inside?… Well, what do you think?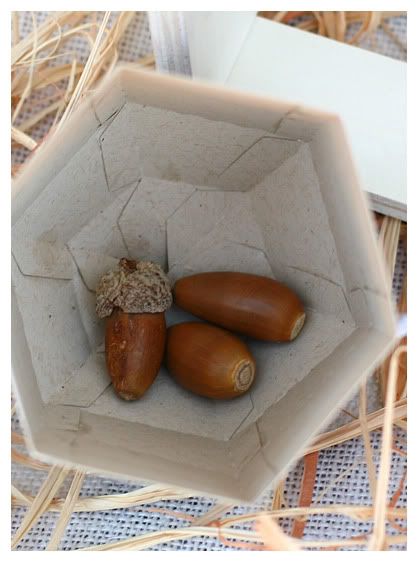 I love this silly kiddo! *pink fluffy hearts*
So, I gotta share a funny little story. Alannah said, "This is so cool, how much did it cost?!" (Yes, she's been practicing counting money and such, lol).. I told her what the price it is, but then said being that I design for the company, I get mine for free!… She was AMAZED! Told me, "REALLY?! You need to make stuff for them for ever so when I am an adult I can use them too!"
LOL!!!
Anyhow, this was a lot of fun and I totally suggest sitting down with a kiddo and making an acorn.. or anything else on the SVG Cuts site! This was so fun for her and not our usual cards or painting stuff we do. Smiles all around today!
Thanks for stopping by! Don't forget you can get this NEW kit as a FREE GIFT this week with a purchase of $9.98 or more! Use code FREEGIFT at checkout! Whoo-hoo!