So.. the idea for these pumpkin's has been all over Pinterest lately.. I actually saw this idea last fall and just didn't have time to make them.. I told myself this year I would be a crafty little rockstar and get all my DIY decor projects done.  So this was one of my first projects!  Wood 4×4 'pumpkins'. I did have hubby's help with sanding and chiseling the wood. I am such a girl when it comes to anything that might give me a 'boo-boo'.. although, I did toughen up and start beating it with a hammer… then whined when my forearm hurt for two days..
After beating the crud out of the 4×4′s for almost an hour to get the 'perfect' look we.. ah.. hubby, sanded them and got them as smooth as possible. I slapped on some paint, burlap, jute cord, wire, buttons, and a rod thingy to make 'stems'.. and had myself some PUMPKINS!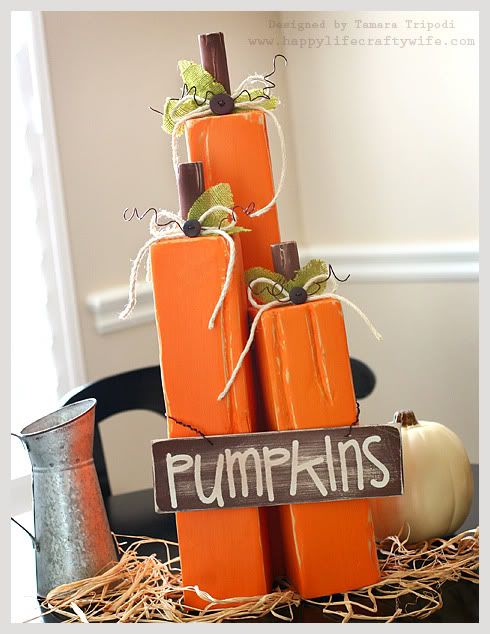 Yeah, they really are THAT cute! I made this for super cheap.. if these were in a craft store I bet they'ed be at least $100,000.. ok.. maybe more like $40ish… but still! They are tall, heavy, solid little masterpieces! Plus you get the satisfaction of this little conversation in the future..
Non-crafty friend: "Oh, my! Where on Earth did you find those adorable wood pumpkins?! I MUST go buy them!"
Says you in all your crafty awesomeness: "Wellll.. You see, I actually made them…" (The trick is to say it like it's no big deal and you've been making wood pumpkins ever since you crawled outta your mama.)
Non-crafty (and now overly amazed) friend: " NO WAY!!!! YOU made THOSE?.. Wow.. you are SOOOO talented"
Says you: "Did I mention I built this house and invented chocolate and stopped world hunger?"
LOL….
You crafty type know how us crafters roll…
Anyhow, here's some more pics, then I will share a little 'how to' with ya!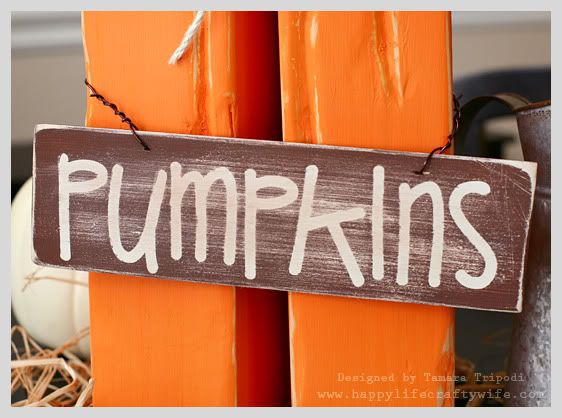 That sign rocks.. don't even try to agrue with me! lol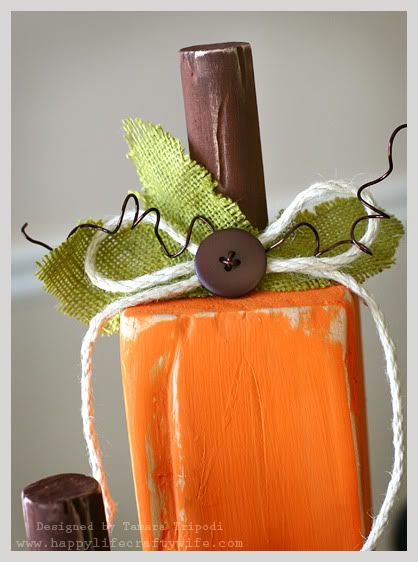 Love that yummy sanding to 'distress' a bit!
So, what do you think? I truly LOVE doing stuff like this and it's been ages since I did a craft that didn't involve paper in some way. I can't wait to make the rest of my goodies and share them with you all!!
Now, wanna make your own? Go grab your hubby, boyfriend, partner, etc and let's get crafty! (unless you're all tough and stuff and can cut, chisel, and sand your own wood.. lol)
SUPPLIES:
A 4×4. I cut mine into 6 pieces so I could make two sets. Cut them to 21″, 16″ and 12″.
Orange paint. I got flat 'pumpkin orange' made by Glidden
Brown paint. I used some regular 'ol craft paint.
A wood dowel. I forgot to take a photo, but you can find them at any hardware store. Mine is 1.25″ diameter. Cut to sizes 3.5″, 3″ and 2.5″
Green burlap (fabric.com)
Ivory or natural jute cord (I got mine from Etsy)
Large dark brown wood buttons
Jewelry wire, dark brown. 16 or 18 gauge. make sure it's thick enough to stand out, but not too thick that you can't put it through the buttons. You can get the wire at places like Hobby Lobby, Joanns, Michaels, etc.
Sand paper. Use a medium and fine paper.
Chisel
Paint brush, drop cloth (or a trash bag like I used, lol), hammer and hot glue.
HOW TO:
 1). Start buy cutting the 4×4 to the sizes I mentioned, or make them however tall and short you want! Then start sanding.. a lot. Taking a hammer to dent and scrape the wood really helps! Also use a chisel to cut in some deep creases. Sand the edges and inside the creases to smooth. The more your beat them up, the better! When you're done taking your anger out on the 4×4′s.. use a tacky cloth or air compressor and blow off the wood.
2). Set up your painting area. You can use a primer if you want, but I just did two coats of paint and it was fine! Here they are with the first coat drying: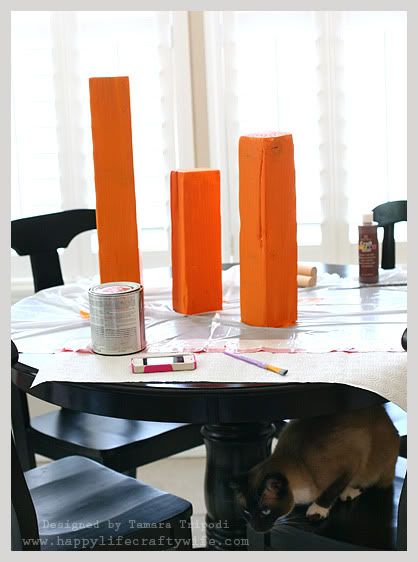 You may, or may not have the help of a furry friend.. (see under my table) LOL!
3). While they are drying, paint the wood dowel 'stems' with brown. Again, use two coats. You'll also want to make sure they are sanded and a little beat up to go with the look of the pumpkins
4). While the stems are drying, make some leaves and add the wire to your buttons. I used my Sizzix Big Shot to cut my leaves. You could also hand cut some, too. Cut various sizes, fray they a bit and crinkle them up in your hand.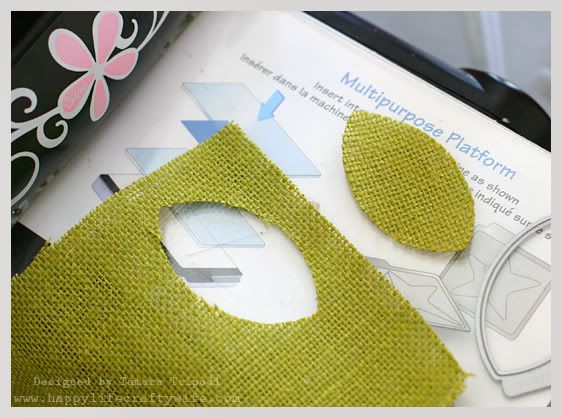 5). For the wire, string pieces through your buttons and curl the ends. (Wrap them around a wooden spoon handle ,etc.)
6). One the pumpkins and stems are done drying, sand edges and chiseled areas to remove some of the paint and create a distressed look. Then, adhere the stems with hot glue. A big glob will works just fine! Cut some long pieces of jute cord and wrap them 1-2 times around the base of the stem to hide any messy glue, then tie into a bow. Adhere the burlap leaves behind the bow, then adhere the button.
PUMPKIN SIGN:
Sheet of bass wood (found at Michaels, Hobby Lobby, Joanns, etc.)
Brown craft paint
Vinyl and die cutting machine OR use a good 'ol stencil.
Fine sand paper
Poking tool (or any way to poke a small hole into the bass wood)
Wire (16 or 18 gauge dark brown)
HOW TO:
1). Cut the bass wood to size. I cut mine to about 11″ wide. Here's a photo from the bass wood so you know what size to look for:
2). Sand edges to create dents and distresing.
3). Cut the word 'pumpkins' in vinyl (or use a stencil).
4). Adhere vinyl to wood.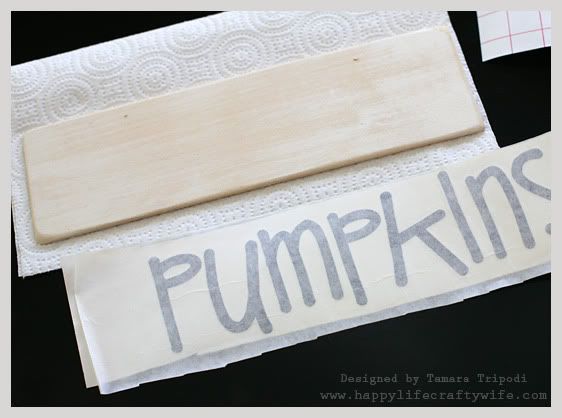 5). Paint with dark brown (two coats) over the vinyl. Let dry, then peel off vinyl lettering.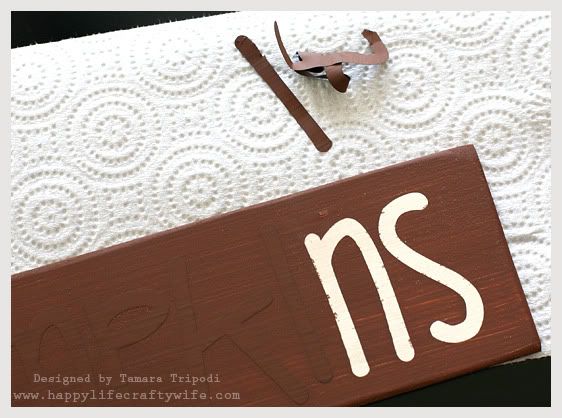 Awesome, right? Now sand all over the sign, especially on the edges!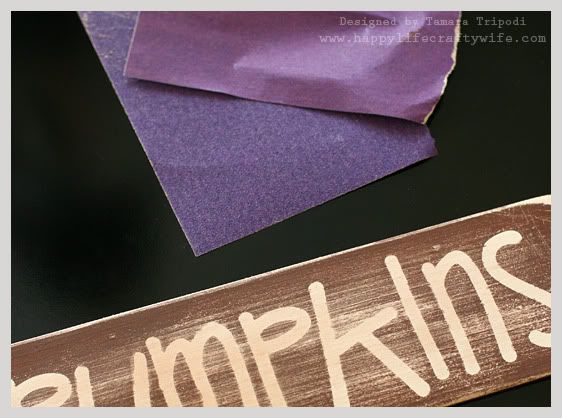 6). Next you will poke two small holes in the sign and run some wire through them, wrap around the pumpkins and you're done! I did use some dabs of hot glue to hold the sign in place.
Yay! What do you think? Totally fun, right? I always get the feeling of 'awesomeness' when making my own decor and such. If you make some, I would LOVE to see them shared on my Facebook page!
Thanks so much for stopping by! Happy crafting!