Hello, everyone! How was your weekend? Mine was rather boring, just hung around the house, did a little shopping, etc. Nothing too exciting. Except for these.. yes, THESE cute little tin Frankenstein buckets made my weekend! I think they came out totally adorable! I came across these little buckets and picked them up thinking I could do 'something' with them.. then it clicked! They are the perfect 'Frankenstein green'!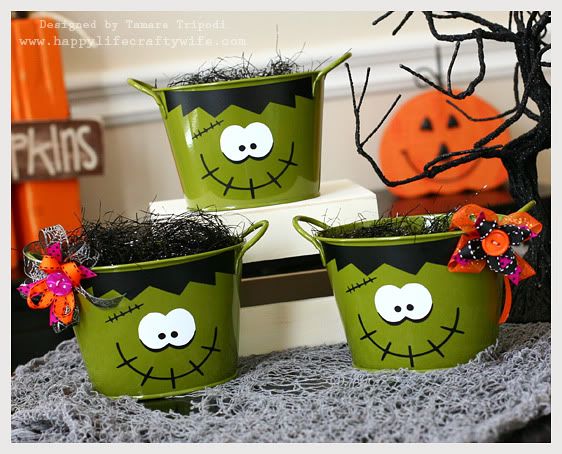 Cute, cute, sooo stinkin' cute!
I had a lot of fun making these! I just fired up the Sizziz eclips.. got my vinyl and ribbon out, and started gettin' down in crafty town!…
Sounds so glamorous, right? 'Gettin' down in crafty town' Ha! A quick project turned into an ordeal with a kid peeling up my vinyl to 'help'.. GAH! Hellooooo you weirdos. You need yourself some transfer tape! lol. Then it was snacks.. then it was a spider.. then it was wanting to help cut ribbon.. which resulted in a spool of ribbon being completely unwound. Did I mention I love my kiddos?.. lol. It was mid-day on a weekend.. I was already asking for trouble there. And since I have been obsessed with using my new kitchen nook table, I sat out there. That was asking for even MORE trouble.
Note to self: No crafting on weekends 'by myself' with all three kiddos here and no hubby around to keep them entertained.
So, after 2.3 anxiety attacks, they were complete!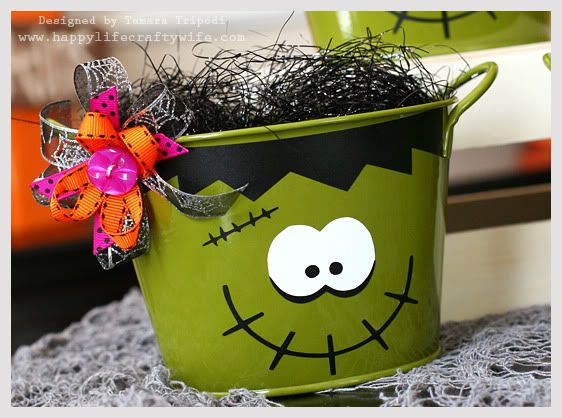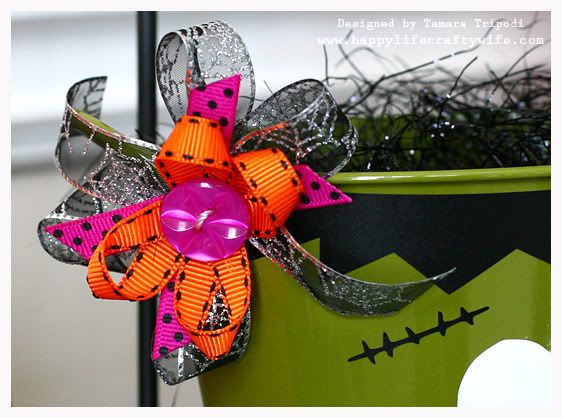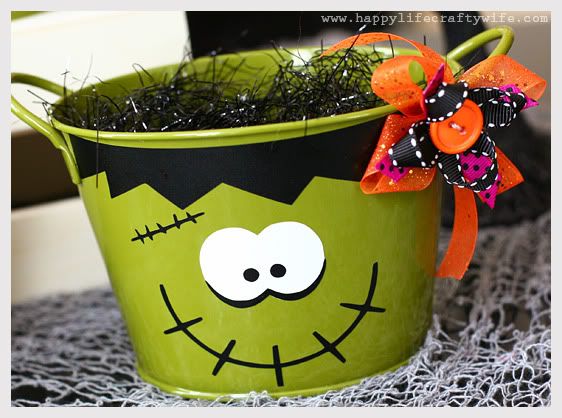 I added beautimous bows to the 'girl' ones. I love the bows! I am not much of a bow maker… but TODAY.. Today the bow gods took me in their hands and guided me to bow-awesomeness!
*Says the expert bow maker reading my blog right now*… "Uh.. that bow looks like it came out of the dumpster after being teethed on by a drooly baby that just ate a jar of carrots".
OK.. hey there, 'expert bow maker'. Nobody asked you! Mmmkay?
Moving on…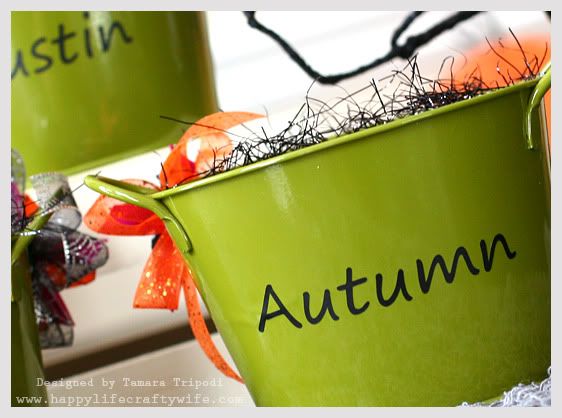 I added each kiddos name to the back of their pails.
For people with multiple spawns.. Er.. Children.. You know how it is. If it's not 'officially' deemed 'theirs' by a name, being licked, etc. it will become a war at one point or another over who's is who's. What's amazing is this doesn't happen with the messes in their rooms. Nobody wants to claim that, do they?..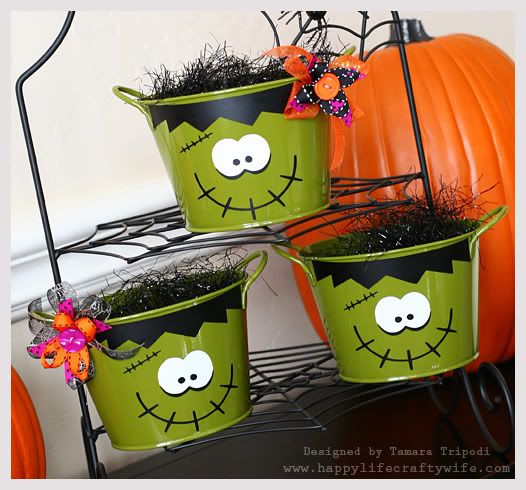 I love the bucket stuffing I chose. It looks like messy monster hair! But for $5.00 for a small bag.. it's borderline robbery. It's friggin' shredded plastic for cryin' out loud! What's this world coming to?
Obviously I like to be robbed.. as it came home with me anyways.
So, here's some little deets on how I made it.
The junk: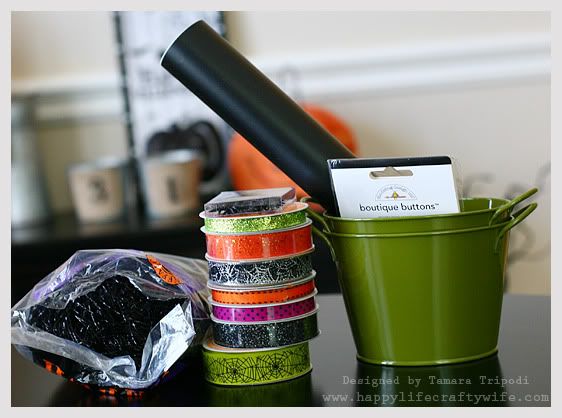 An electronic die cutter (Sizzix eclips)
Green tin buckets. You can spray paint any 'ol boring tin pail, too!
Find yourself a monster face cutting file.. or find a way to make your own like I did.
Vinyl; black and white.. and some transfer tape.
A cage… to lock kids in so they don't destroy your vinyl and un-roll your ribbons.
Ribbon to make bows.. or tie onto the handles.
Hot glue (for bows)
Basket stuffing.. that hopefully isn't $5.00 a pack like mine was.
Buttons (I used some from Dooodlebug Designs last fall.
First you will need to find a monster face you like in a cutting file format. This was quite the task as there's not really that many 'cutesy' Frankenstein faces out there in SVG file land (hello, SVG making peeps! We want cute monsters!) So, I remembered I had THESE cute cupcake graphics and with some little editing, I used one of the faces! I liked the girly face as well, but with the lashes being so long and lack of hair, it wouldn't have looked so 'Frankenstein'ish'
I loaded some vinyl into my Sizzix eclips and cut it! I LOVE that the preset 'vinyl' setting cuts the 'perfect' kiss cut! AKA:  It will cut just the vinyl and not through the backing. This makes transferring WAY easier) Make sure you change your blade setting on the machine, too!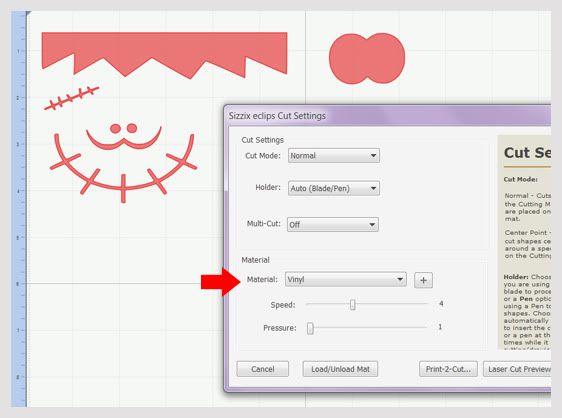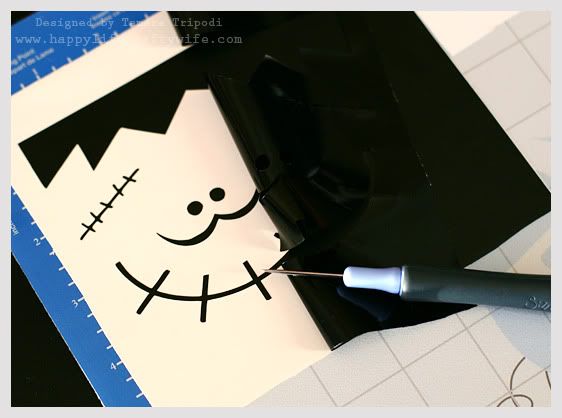 I like to use my Sizzix die pick to weed the vinyl. It comes in the Sizzix TOOL KIT for the eclips, which is a must have kit!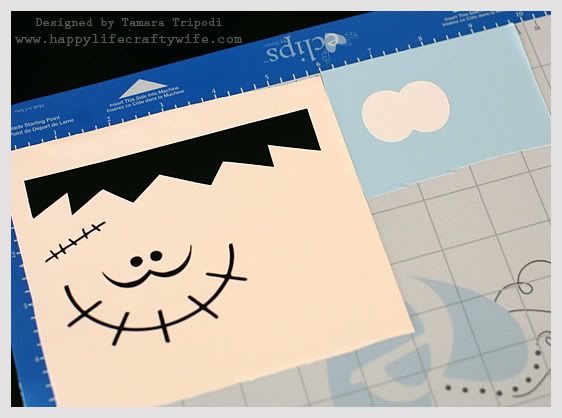 Hello, perfectly cut vinyl pieces! Come to mama!!! I'm-ma 'bout to slap ya on a bucket! And you're gonna like it!
Sorry.. getting a little strange for you now?…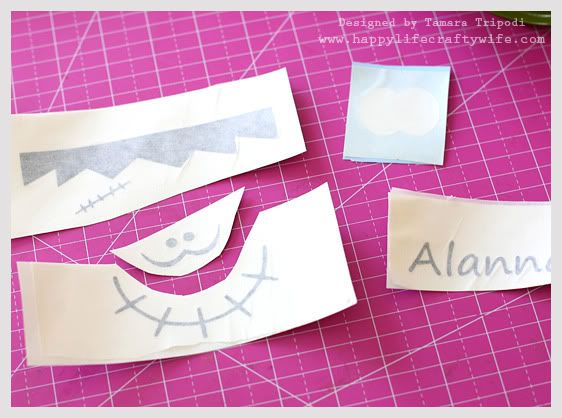 I cut my vinyl into pieces like this to layer and position easier. First I did the hair/scar, then smile, then the whites of the eyes, and last was the black parts of the eyes. You have to layer them like so: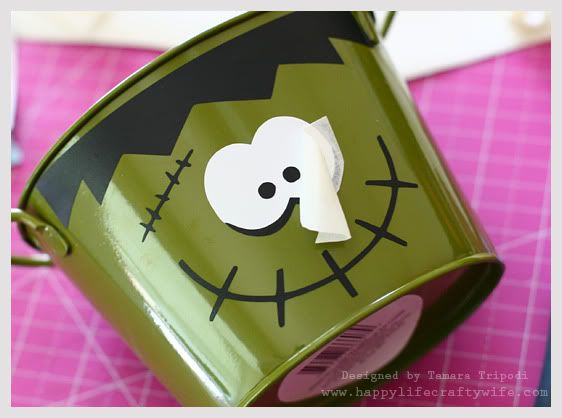 I did a darn good job! *back pats* I am usually not all that great at layering vinyl just right. There's a science to it, I swear.. But these.. these came out perfect!
*Says the expert vinyl layering chick who's currently reading this*…………
LOL! OK, I won't go there again.. (And if you didn't read this looong post all the way through you might not 'get' this.. so go be a good little blog visitor and read the post!…. or ignore me and just look at my cute bucket. Either way I am glad you're here!)
And that's it! Add your ribbons, tag, etc. to personalize it! A quick and easy project perfect for gift giving!
Likey? Pin it! I love seeing my stuff pop up on Pinterest!
GIVEAWAY!
Want one? Maybe you don't want to bother making your own.. maybe you don't have a way to cut vinyl.. maybe you just want something that I have breathed on and might contain a sample of my DNA?.. Well just leave a comment to enter to win! I will pick one winner on Friday, 9/7! You will get the choice of having a name and a bow added or not! These buckets are about 7″ wide (with handles) and 4″ tall. A great size for some Halloween treats!
See ya!