Hey! How's it going?… Did you all have a nice weekend? I have been prepping and getting some ideas together for all my DIY Halloween decorations I have planned! Did you know I have a full week of Halloween fun that's gonna be happening here in September? (So you have plenty of time to get Halloween projects done!) More info to come later, but I have some sponsors lined up and will have giveaways all week! I am pretty excited! I will have paper crafts, treat ideas, and DIY decor ideas! Hope you'll stop by!
Anyhow, since I have Halloween on the brain….. "Mmmmm… Braiiiiiiins" I decided to make a cute and SIMPLE treat bag! I pulled out some fun stamps, my Big Shot, circle framelit dies and got busy!
Did I mention it was simple? Sometimes we all NEED simple, right?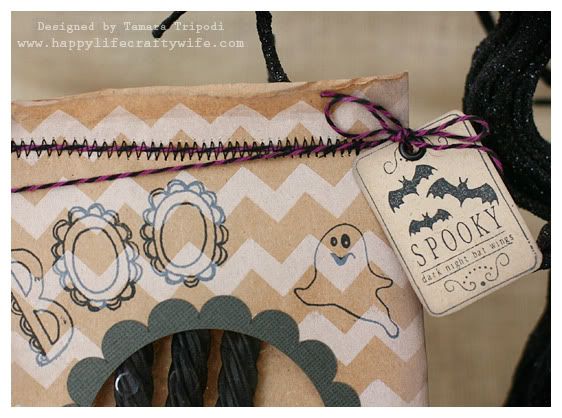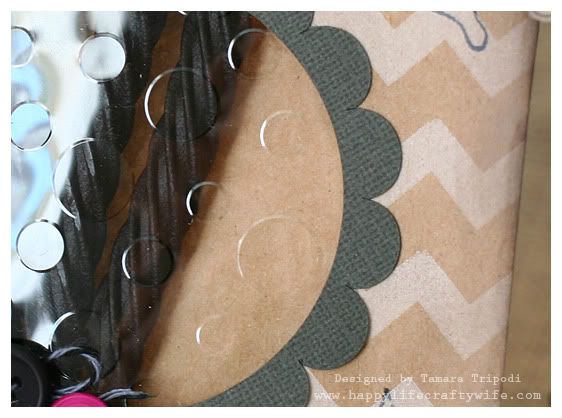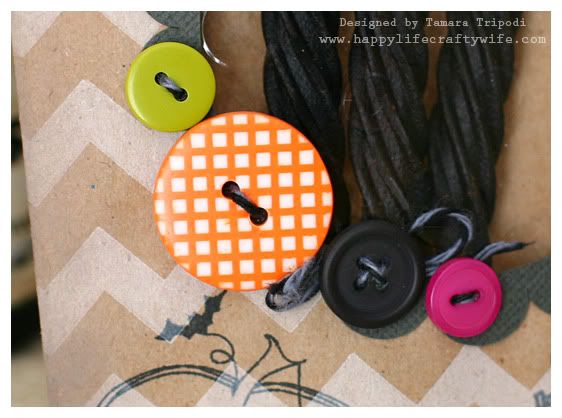 I love the stitched twine.. cute stamps and the buttons… and yes, even that black licorice that most people hate!.. lol
Here's some detail shots on how I made it!
Supplies:
To create the window on my bag I inserted a framelit die into the bag with the cuting side facing the front of the bag. Line it up the best you can. I held mine up to the window to see through it and get my placement just right!
Emboss a piece of acetate for the window.
(LOL! Yes.. I was eating a twinkie.. or tried to.. I haven't had one in awhile and YUCK! Nevermind that mess…)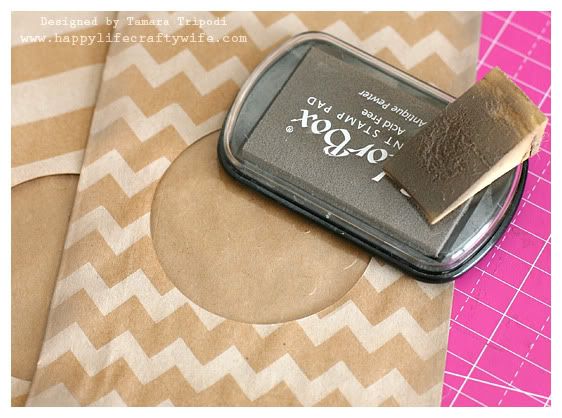 Ink the edges in gray. Colorbox 'Antique Pewter' is my FAVORITE gray for Halloween projects!
I cut a scalloped frame with my Sizzix eclips from SVG Cuts 'Scalloped Shapes' collection. I used a medium circle frame sized to 3.162″. This will fit perfectly over the opening when you use the 3″ framlits die.
Then begin stamping! Embellish with buttons and fill up the bag with treats! (or, if you're cheap like me and only had 2  1/2 pieces of black licorice).

To close up the bag I stitched over the twine on the front and through the bag, and then wraped the twine around and tied a bow with a stamped tag! Cuteness!
That's it! A cute and fun way to package treats… and use stamps that you may or may not be hoarding.. or.. 'collecting'.
Oh.. and when I said I used 2 1/2 pieces of licorice.. I wasn't kidding. Here you can see when it slipped down and exposed it's ripped apart self! LOL!!!
Look for a post tonight for the Echo Park blog hop winner!