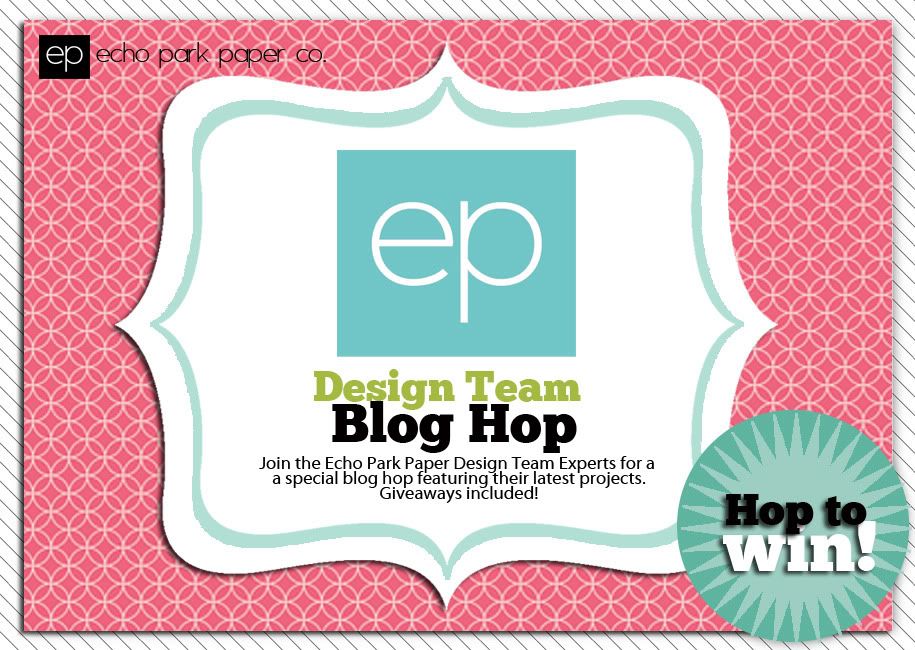 Whoo-hoo! It's our monthly Echo Park Paper DT BLOG HOP! I'm your last stop on the hop and I've got a cool project to share AND a special announcement! Be sure to follow the blog hop list below as you hop from one blog to the next. Return to the Echo Park Paper blog at any time for the next blogger on the list in case you get lost or confused! ONE winner will be selected from each blog to receive an Echo Park Paper collection kit of their choosing! To qualify for the kit, comments will be due by midnight EST, Sunday, August 26th to qualify for the drawing. The winner will be announced on each blog Monday, August 27th so be sure to check back to see if you've won!
So, anyone else have Halloween/fall on the brain? For me, it's like the second school is back in session, I think it's fall… even though it didn't feel like fall today when I was a sweaty mess walking around the classic car show.. ick. I don't even LIKE 'classic' cars really.. Was there purely for my little dude's enjoyment… Enjoyment as in, 5 minutes of walking around he was thirsty, hungry, and had to pee…. Oh, and his foot hurt. Of course. Can't be an outing with mommy without a hurt body part.
Anyhow, the DT got our monthly box of goodies and in it was this AMAZING new collection, Chillingsworth Manor. I love, love, LOVE it… LOVE IT.. I love it so much I gave myself extra design team work just to use it up some more.. lol. I am sure several of you will think it's far too early to even be thinking about Halloween themed crafts, unless you're a crazy like me.. lol. I decided to give it a go and whipped up this altered piece just for you all!.. Yup.. no other reason than for the blog hop. *smiles*
So here it is… My cool little creepy $1.00 crow on a round container with some twigs added in.. (If you can think of a better name for me, let me know.. lol jk!)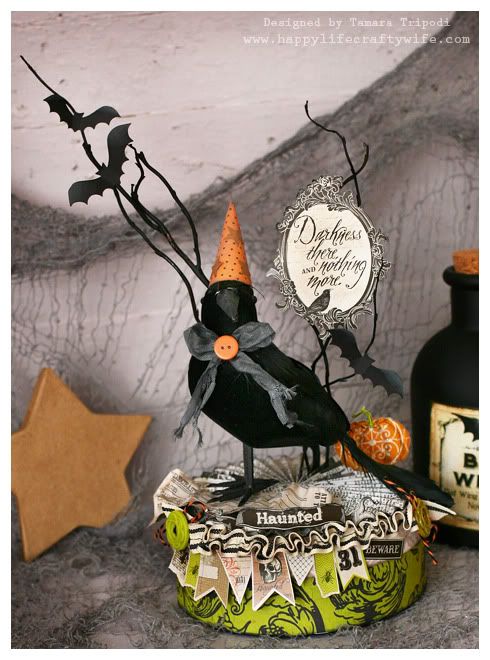 The round container was cut from my Sizzix eclips using SVG Cuts 'Happy Birthday to You' tiered box cutting file!
Oh… My kids named the bird Carl…
Crow says, "Do I LOOK like a Carl to you?…" …"I am clearly a Bernard."
His beady black eyes are looking at you…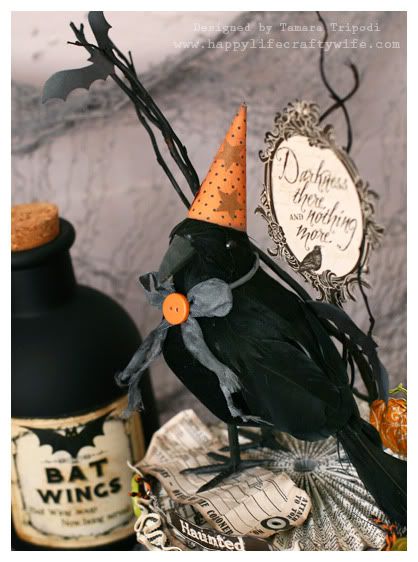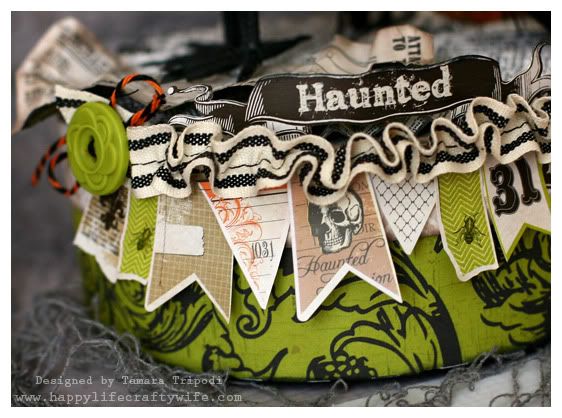 The pennants are just awesome.. They come of the sticker sheet all attached for a border, and I just cut them and layered a bit. Trying to jazz it up a bit!
Although, even if I didn't do that it would still be pretty jazzy… If I do say so myself..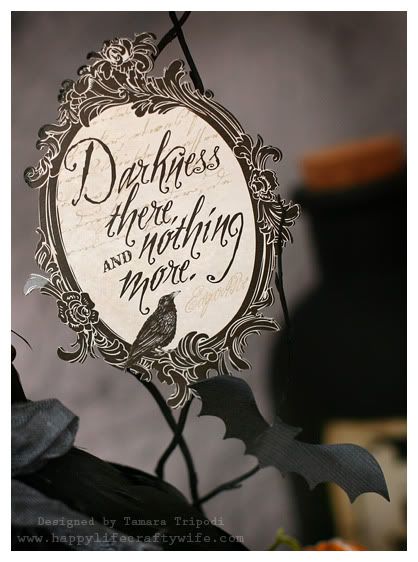 Did I mention I made this in about 1.5hrs?.. Crafty suppah star? Maybe…. Caffeine induced crafty session?.. Guilty.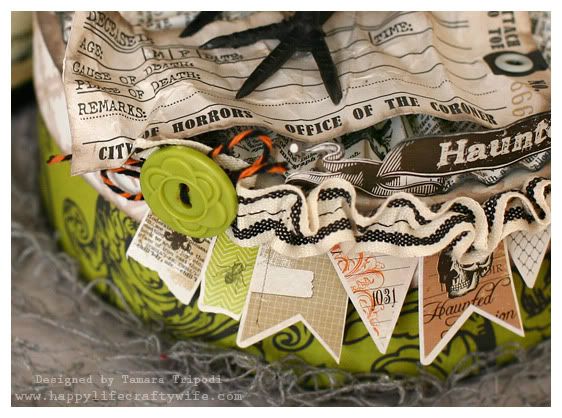 The coroner tag makes me smile.. and not because I am some weird freak who likes coroner body tags… but because I just inked the edges and crinkled it up and it looked totally cool. My last touch to this project before I called it done! This collection includes a lot of fun tags to cut out! Makes it easy to add to gifts, goodies, etc..
That YUMMY Halloween (ornage/black) twine? It's from Trendy Twine! They have several AMAZING new colors being listed, too! Check them out on the Trendy Twine Facebook page!
So what do you think?… Even if you don't like Halloween *GASP!*  hopefully you can at least appreciate the idea. I've seen a 1,000,001.9999 altered crows done for Halloween projects, but mine is super cool with those EP papers, yes?.. oh, yes!
Don't forget to leave a comment to be entered to win a recent collection of your choice! Leave a comment on EACH blog and if you're REALLY  lucky, you might win more than once! (and if you do, I suggest running out and playing the lotto ASAP… and then splitting your winnings with me.)
Anyhow, Yes.. this is long.. yes, I am rambling.. So I will send you on your way. Head to the Echo Park blog to begin the hop.. and if you've already gone through, thanks for joining us! See ya next month for another EP DT blog hop! Don't forget to subscribe to my blog by email or your can just 'like' my FACEBOOK PAGE!
Echo Park Paper: http://www.echoparkpaper.typepad.com/
Wendy Sue Anderson: http://www.wendysueanderson.blogspot.com/
Susan Stringfellow: http://creativelysavvy.blogspot.com/
Lowri McNabb: http://www.papervinenz.com/
Davinie Fiero: http://davinie.blogspot.com/
Linda Auclair: http://elendae.wordpress.com/
Tamara Tripodi: http://happylifecraftywife.com/ <——- Lucky you, you are HERE!
Oh.. and my announcement!!! Guess who was asked to be part of the Carta Bella design team?! YES! I am SOOOOOOO excited! Carta Bella is a sister company to Echo Park Paper, if you didn't know. Pretty awesome and I can not WAIT to start getting projects done to share! I am one HAPPY girl!!!