I am so honored that Little Yellow Bicycle asked me back again to be on their 'Splash' cycling team! This collection is fabulous! And of course, I just love all the LYB embellishments! It's hard to not want to pile them all on one project! LOL!
I have two spots for projects this month, but here is my first! I am really into making little gift sets (bags, boxes.. more boxes) and cards to go with them, so.. that's what I did!…. "I mean REALLY. How many stinking bags and boxes is this chick gonna make?" <—- That's what I imagine you saying.  Ah well.. It's what I do.. it's what I like to make. So.. here's a bag! A burlap bag though! I haven't done one of these yet.. and now I love 'em.. so be prepared for more. There. I've warned ya! There will surely be a burlap infestation going on here soon enough!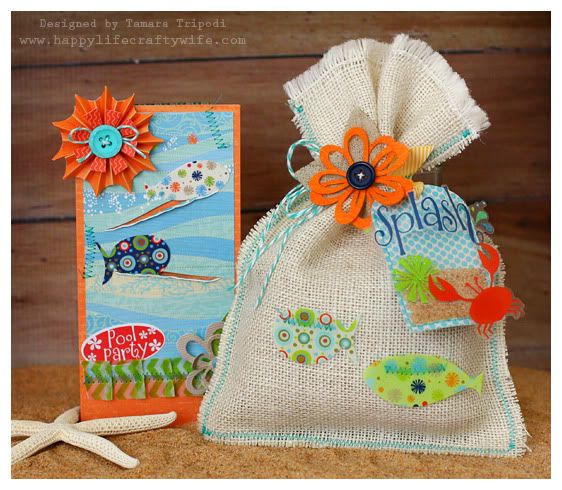 But c'mon.. how stinkin' CUTE is this! Really now.
No really.. tell me how cute it is!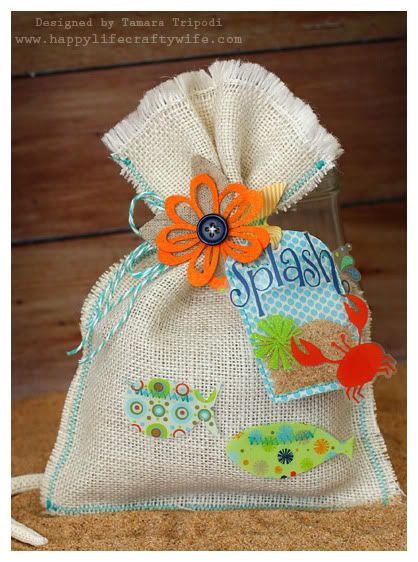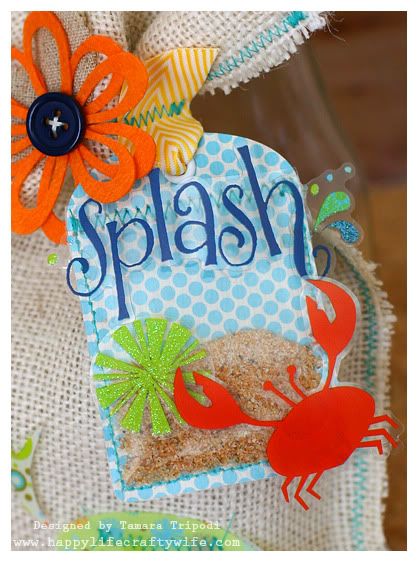 The tag is my favorite part! I stitched a piece of acetate over the tag and filled it with sand! Then stitched over the top to close it up… snazzy stuff right there, folks!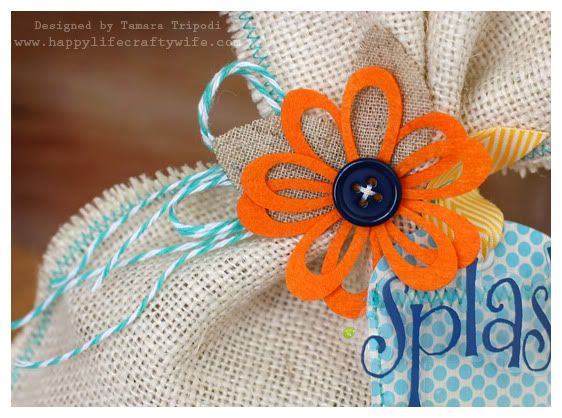 That little burlap and felt flower was my inspiration on making this bag. I saw the burlap on this flower and I was DYING to cut into my new pile of burlap I got.. I've seen burlap bags everywhere, but most recently from my friend Thienly at Mod Paperie.  So I cut some up and stitched it with a pretty teal thread. I love how the thread color just pops against the light colored burlap!
One more pic of the bag.. the stitched fish.. "OK, Tamara.. we've seen the stinkin' bag already!"
Shhhhh… just enjoy the bag… embrace the bag… looooove the bag.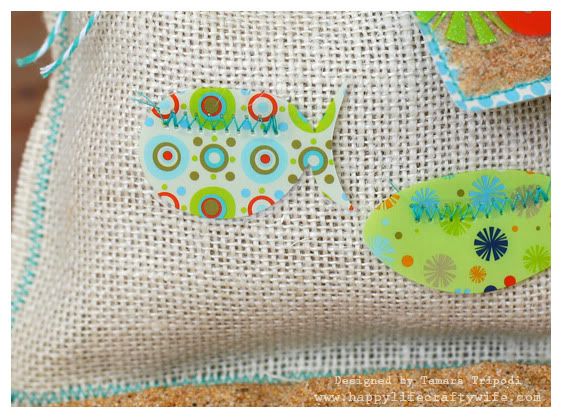 *throws hands up* OK, OK.. I'm done! No more bag pictures.
But I have a caaaaard….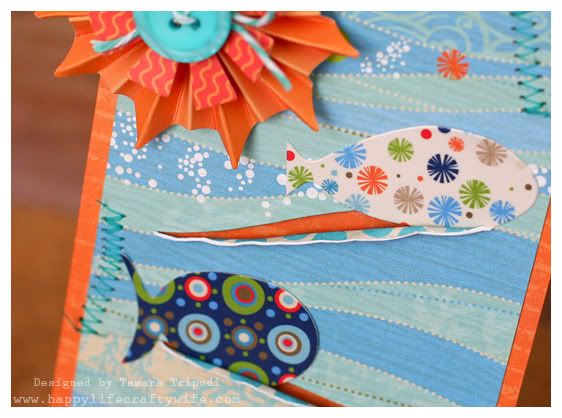 I cut along some of the waves on the patterned paper with my craft knife, rolled them down a bit, and stuck a fish in it! Looks like the fish are happily swimming along.. minding their own business.. until a shark sneaks up behind them… and then.. well, this is a family blog, people. I am sure you can imagine what happened next.
*Hands Mr. Shark a toothpick*
OK, carrying on… one more pic…
I love, love, love andwannamarry this vellum tape here! I like it even more than washi tape! This collection comes with several strips of vellum tape. And well. it's awesome. You need it. Trust me.
So, whatcha think? Thanks for stopping by today! I've got a few little projects in the works for a few DT's.. and trying to think of one more quick SVG Cuts project before I get busy with CHA projects and planning.
Alrighty, that's it! See ya later!