'Come on let your colors buuuuurst'
Yeah.. I actually do not like that song… at.all.. but it was a fitting title for this project!
**If you are looking for the Echo Park blog hop – IT IS HERE!*
I was not feeling good last night, couldn't sleep, so I got up and did some crafting.. (Yeah, not many people actually get up and DO things when not feeling well.. I know.. I'm a special kind of freak) I decided to use what was already laying on my craft table, some patriotic papers! And lucky me, SVG Cuts just came out with their latest Stars and Stripes kit! I LOVE it! That little firecracker box was calling my name! "Taaaamara… come plaaaay wiiiith meeee".. Creepy little firecracker! It's like, at least buy me dinner first before coming on to me like that, right?…
lol..
So, at midnight I was up making a firecracker box. I finished that, and decided to make a little treat bag to go with it. These are both fairly simple to do. The firecracker goes together very easily! Remember, it was late night feeling icky crafting.. so my creative juices were not flowing as well as they usually do, They were more like, trickling out.. LOL! I do LOVE the set though! So fun! *ka-booom!* I changed up a few things to make it my 'own'. I love taking SVG Cuts files and using the boxes, cards, etc. as a 'base' and doing my own thing from there. *smiles*
Here's my firecracker gift set! And yes.. I think I've come to realize that if I make a 4th of July themed project; it will most likely have wire and stars sticking out of it, lol..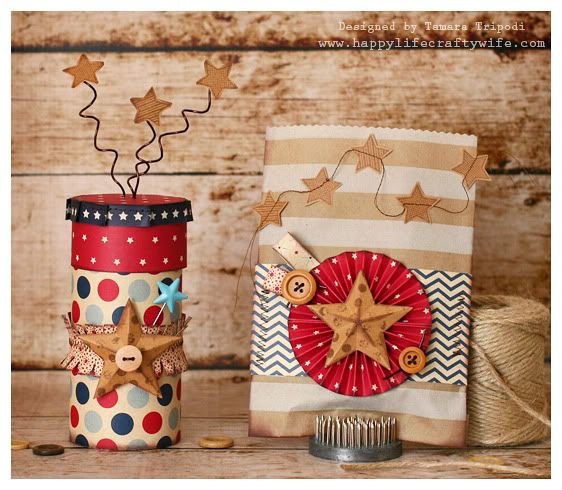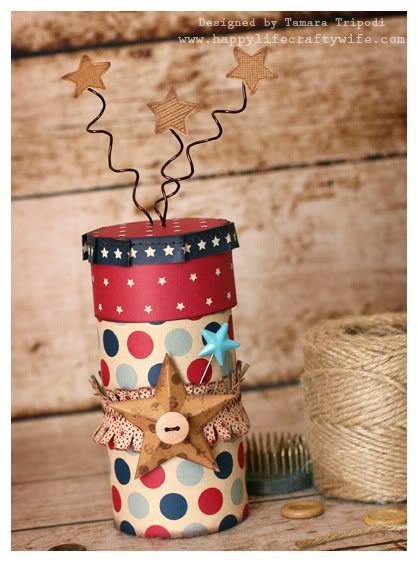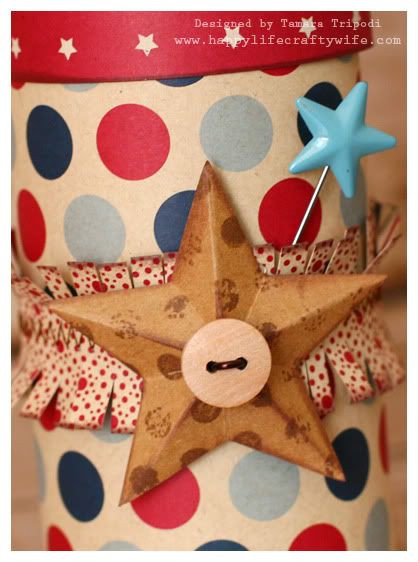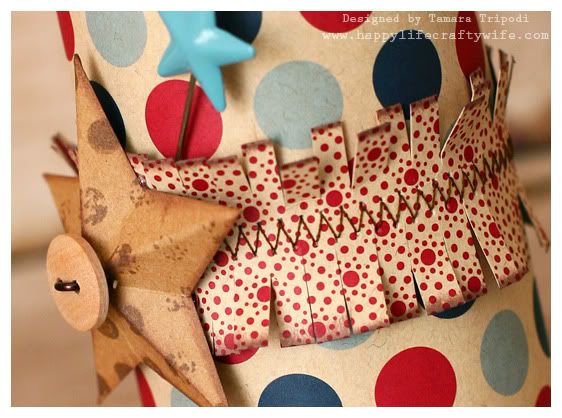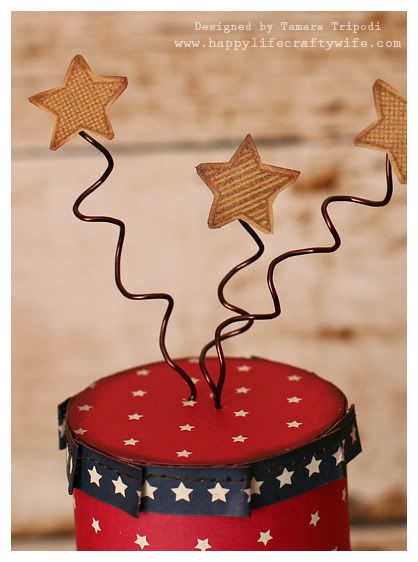 And now the bag..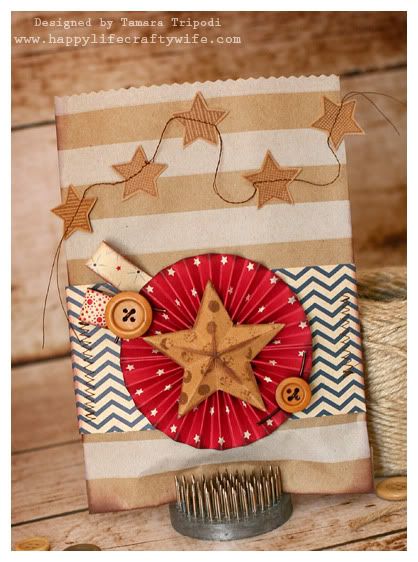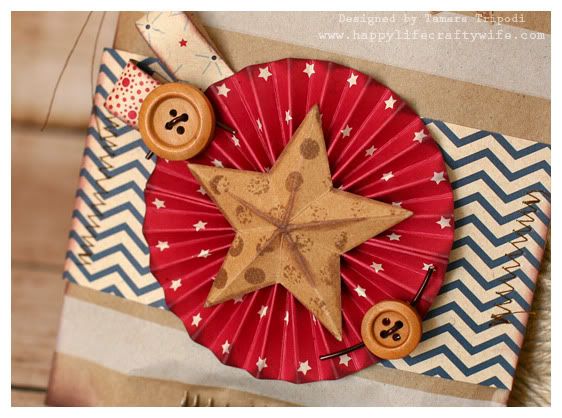 What do you think? Does it make you want to burst?..
Please don't. That would be quite the mess. I don't like messes….. unless it involves chocolate.
Here's some design tips!
Firecracker cutting file from SVG Cuts' 'Stars and Stripes' SVG Kit! - Mine is sized to 8.5″ wide. I would have left it full sized, but my papers I wanted to use were trimmed a bit and the files wouldn't fit.
Papers.. The deliciously awesome Pebbles 'Let Freedom Ring' I love it!
The star tin pin is from We R memory Keepers
The 3D star was created from THIS tutorial I have posted. Very easy to do!
I used dark brown wire for the firework.
Unity star stamps from the current KOTM.
The bag is from Whiskar Graphics
Everything was cut using my awesome Sizzix eclips with eCal software!
And of course all my usual inking, stitching, etc.
Alrighty crafty friends.. off you go! Thanks for stopping by!