As most of you know I haven't been paper crafting all that long.. (Will be two years this fall! Whoot!) and well, that scares me.. why?… because I've already got quite the hoard of products! I get so excited about getting new stuff that I hurry up buy it all up, without thinking if I will actually USE it. It's all so pretty and I usually make one thing with a small part of a collection (I almost always buy up ENTIRE collections, or very close to it) and then the rest sits there because it's not 'new' anymore. Someone slap me.. really. I almost get sick thinking of the amount of stuff I've bought just this year! Where will I be in 5 years?… in a CRAFTY HOARD.. I'm tellin' ya! lol
OK.. it might not be THAT serious. I like to give things away, don't hoarders.. well.. HOARD things?.. lol. I'm very lucky to get a nice amount of things for free, and any doubles I get I put to the side to give away.. yes, I have a little pile here waiting for one of my lovely readers to win!
So, with all this rambling about my crap I have laying around… I have been trying to organize my craft room! Yes, I have an actual ROOM now. It's small. Very small. But it's a ROOM! lol. I was crafting in my kitchen nook area before… I think I actually had more room in there though.
I've been slowly buying bits and pieces of furniture to build my desk and shelves from Michaels. You know, all their MDF cubbies, desk tops, shelves, etc.?… I figured it's all simple and 'clean' looking so it will work. Some of you might remember my hubby building me some tables awhile back. I love him dearly and appreciate his hard work.. but after some time they got a little wobbly.. And now I am afraid to sneeze on my tables as they might break, LOL! Sometimes my eclips gets going and my table shakes.. GAH! It's like a daily earthquake in here!
Or maybe it's doing a 'happy dance?'.. hmm.
Anyhow, so I wanted to share some shots of my craft area.. basically the clean areas, LOL! I will share the entire room once it's done.. and clean. *wink*
That wasn't a real wink.. FYI.. I got an eyelash/piece of dried mascara in my eye. Nasty me didn't wash my makeup off before bed. Yes.. this is a true story, folks! I am doomed with at LEAST 3 new pimples.. watch! Just give 'em a day to cook up, tomorrow my face will be a mess! 29 years old and I still break out like I am 16!
So.. come on into my crafty hole and see what I've got going on.
Hmm.. I almost feel like I should edit that last sentence.. it's kinda.. weird. I guess it's only weird if you're weird like me and think weird things and try to make weird meanings of things that are actually not weird.
Sooo.. this is my shelf. It's a pretty little shelf with mah junk on it. This is my most used junk (or stuff I PLAN to use!).. I have a few boxes of things in my closet, too.. including seasonal boxes (Christmas, Halloween, etc.)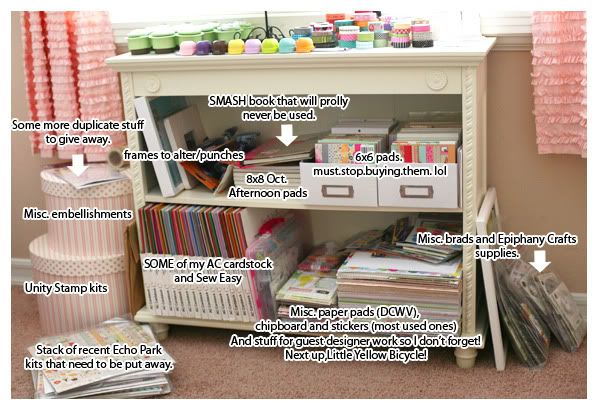 Yes, I live out of bags.. lol. I want to find a special place to put all my Epiphany Crafts things in! But for now.. a bag it is!
Here's what's on top of my shelf…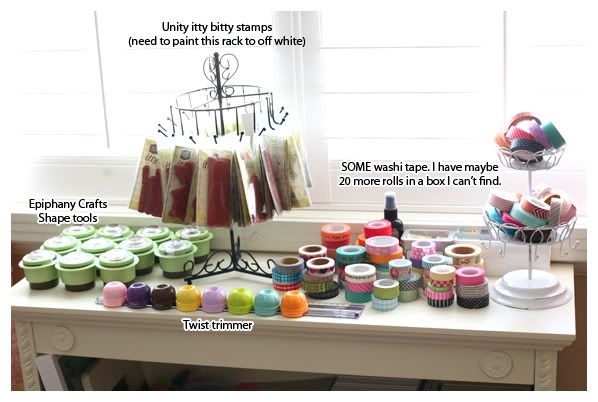 Or WAS on top of my shelf! I took these photos the other day. Then I went shopping yesterday and picked up a few things for storage.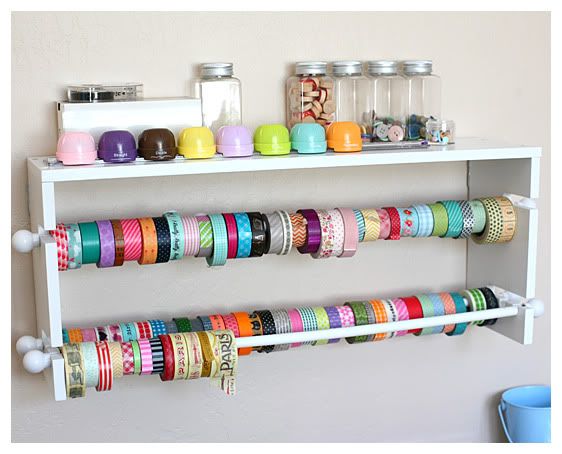 I thought this was cool.. but.. we have a problem. Once I find that missing box of 20ish rolls of washi tape, this won't work anymore. I am not sure what to do just yet..
What?..
Stop buying washi tape?
Pffffft!!! You so funny.
Not gonna happen!
I also got this lovely hunk of junk.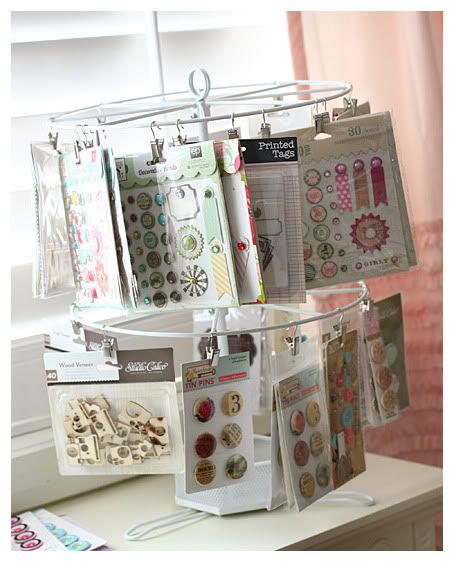 I didn't have enough clips to hang everything.. but it likes to fall over if the weight is not balanced.
Then, I used my little tiered stand thingy as a small ink and thread holder. I have WAAAAAY more ink and thread, but this is what I tend to use most.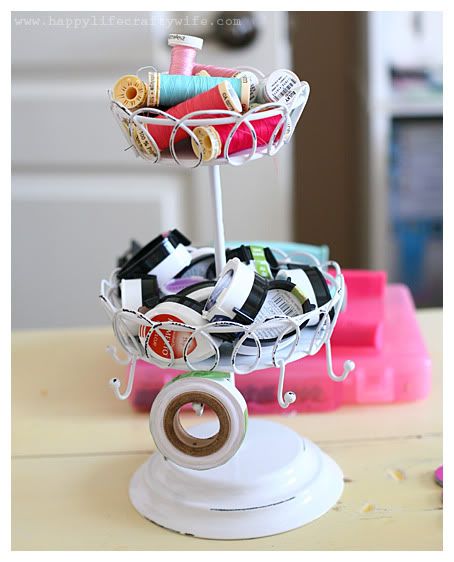 Got that cute little stand at Joanns!
No.. I didn't steal it from my friend Joann.. I meant the store..
Here's a little shelf next to the closet of doom.. Yes, closet of doom. It does this funny little thing when you open it.. it throws stuff at you.. usually on your head and the heaviest things go right to your bare toes. I stay away from it.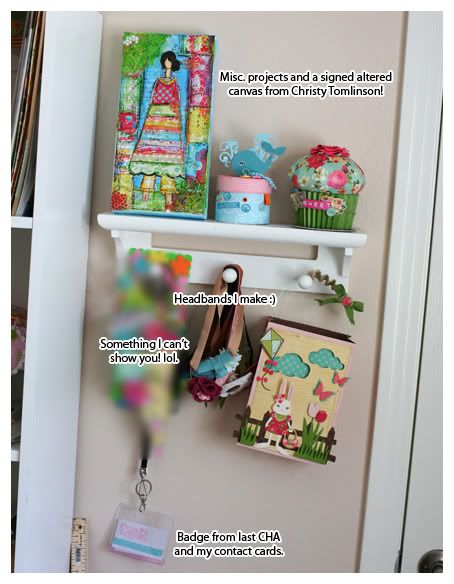 Then, on my table is some Simple Stories…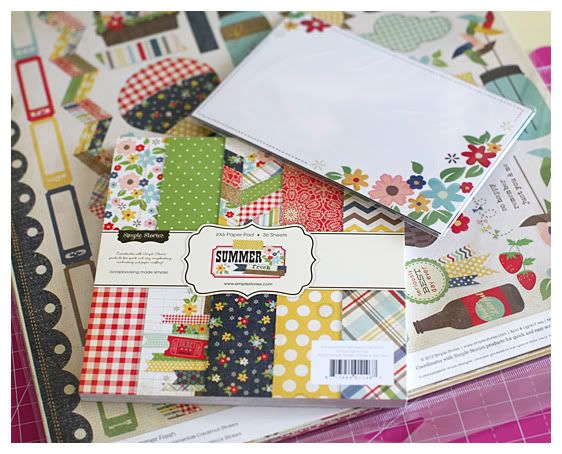 And usually you can find two things in my craft room.. nuts (almonds) and coffee.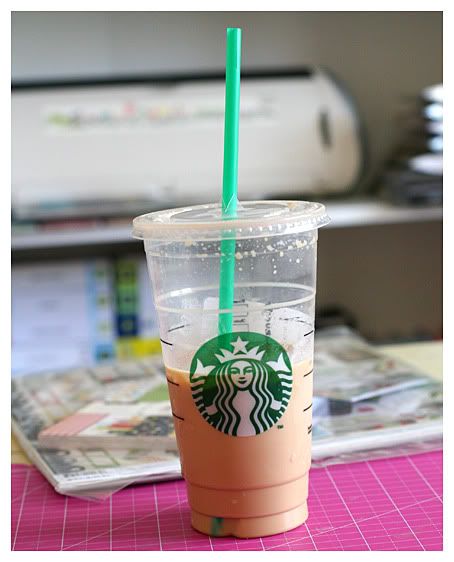 Yum!
I hope you liked this partial 'clean' tour!
Like I said, when it's all snazzy looking I will share the rest! I even have a little photo shoot area!
Before I go send off an email write up of a COOL project I made that you will see in the Echo Park JUNE newsletter.. I wanted to share my little finds at Michaels yesterday! I am really loving altering frames and they had several styles of frames for $1.00! *high five* I think I will alter one tonight!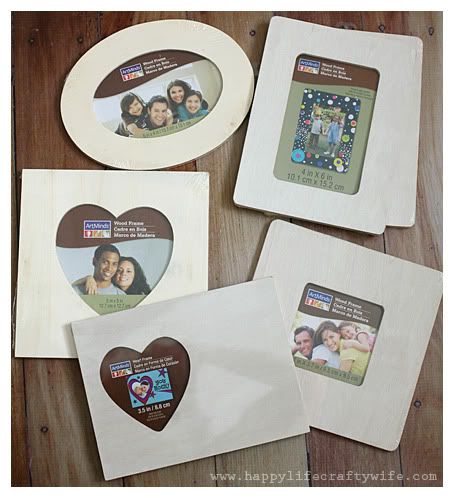 And I also am DYING to alter this flower pot set (only $3.50! Pretty good size, too!).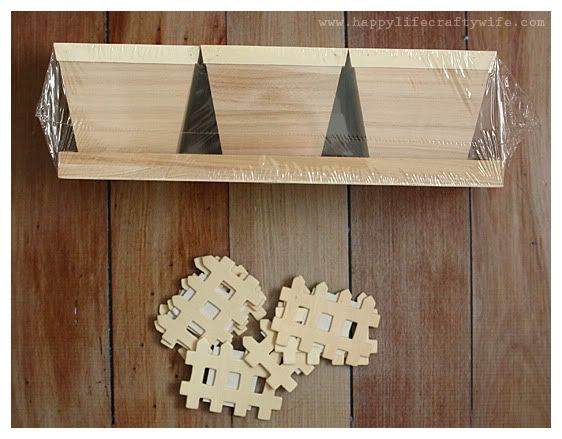 Alrighty.. that's it! have a fantastic weekend!!