Awww, yeah! I have been so excited about sharing this one! I love how it came together, the colors, theme, everything!
I had this idea for a tackle box the moment the Attic Treasures 'curio' shelf came out from SVG Cuts.  I asked Mary if she could create a cool box to fit the shelf in nicely.. and then came the 'playful' box in the Ryan's Play Date SVG kit! PERFECTO! And with that cool little handle, I knew it would look awesome!
I got to making it right away as.. knowing MY luck.. soooomeone would make one and post in on the SVG Cuts Facebook page before mine was even done.. Well, mine was done, but not posted yet and here comes an SVG Cuts fan making a tackle box AND put the curio inside it, LOL!.. Just my luck, eh?.. Ah well! I am sure it will be 'new' to many of you… so that makes me happy!
Now, you better just click on back now if you can not stand a pile of pictures.. I have several piles of pictures of this one, lol! I didn't over embellish, but there is lot's to show.. so.. let's get to showin', shall we?..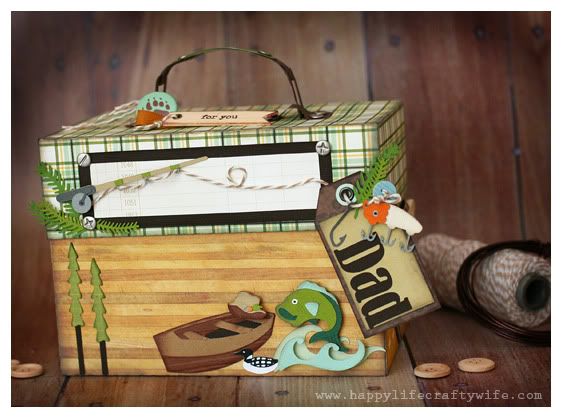 That there is a paper crafted tackle box!!
This handle gets me all excited.. not in a creepy way.. in a "YAY, this is awesome with those screw head brads" way.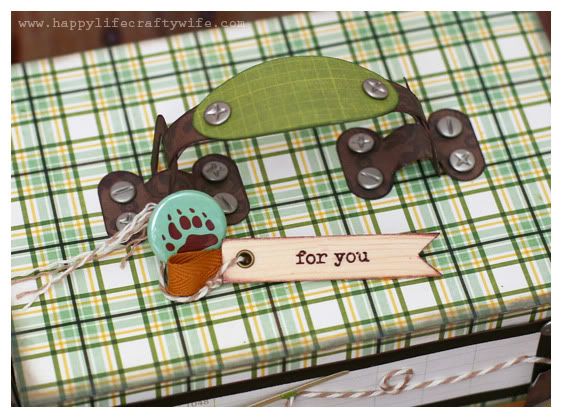 Let's see some more..
This could be for a birthday.. or Father's Day, etc! So cool!
I added pockets on the sides perfect for giftcards.
LOL.. 'meat market'.. so weird. But fitting with this 'fish' listed.
Yes, I went there..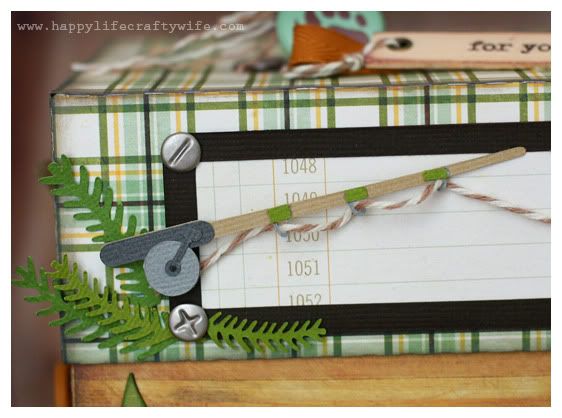 I pulled the twine through the fishing pole.. Cool, right?.. Twine is from Trendy Twine! Love the kraft color!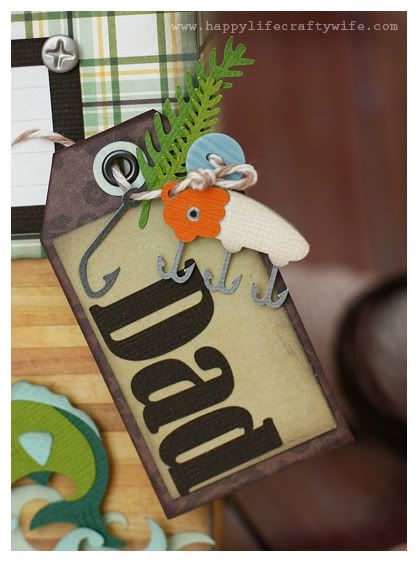 You know you love that tag.
Then.. you OPEN it! Yep, there's fun inside, too!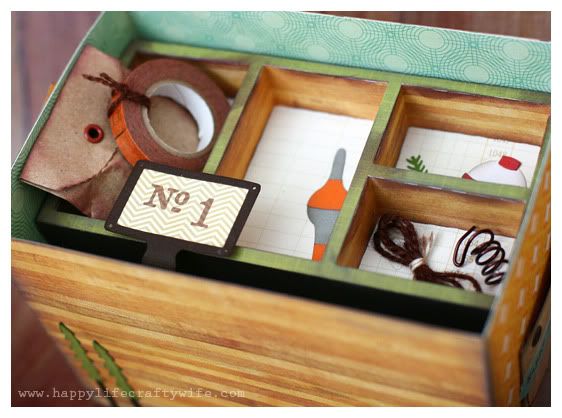 There's that curio shelf I was talkin' about! I left it pretty simple as you should fill this with small candies, little photos, giftcards, etc. You don't wanan spend 10 years decorating this just to pile a bunch of stuff inside it.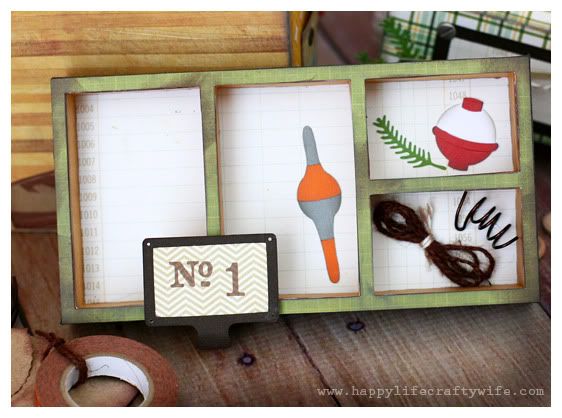 And UNDER the curio there's MORE! (I really could have kept going making piles of stuff, it was fun to make.. but.. I didn't want a mile long write up for my DT project.. it's already rather long, lol.)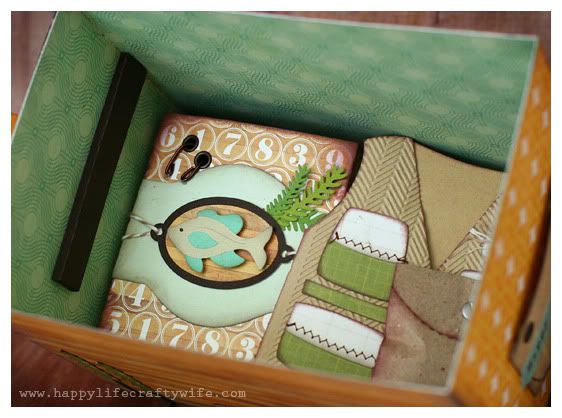 I made a 'mounted' fish matchbox! Perfect for little gifts.. or more candy.. lol.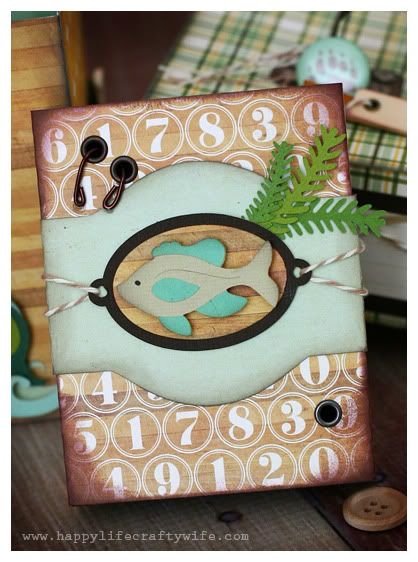 No.. really.. I seriously LOVE my little fishy box..
LOVE it!
And I HATE fish! lol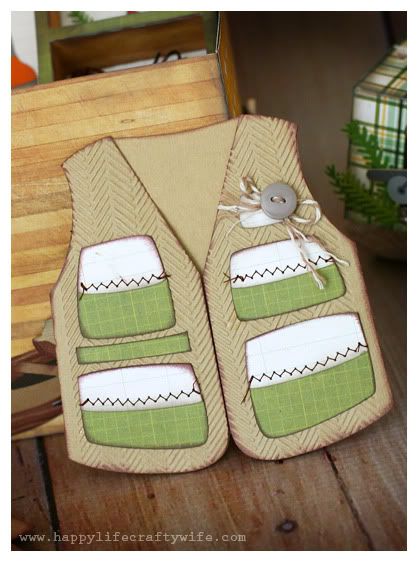 And then a cool vest card.. which is a FREEBIE cutting file! Love weekly freebies at SVG Cuts! *fluffy hearts*
So.. that's it!!! The tackle box gift set!
Think of all the cool themes you could do with this! It doesn't HAVE to be a tackle box!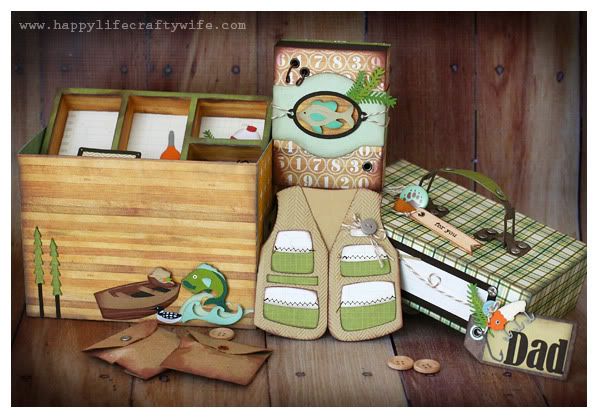 For all the cutting sizes, head over to THIS POST on the SVG Cuts blog.
SVG Cuts collections used:
Attic Treaures SVG Kit
Various freebies from THE BLOG
Misc. Supplies
Trendy Twine 'kraft' twine
October Afternoon buttons, twill ribbon. and 'flair'
Wire
Eyelets
Adhesive
Glue Arts U Cut it Foam (adhesive)
Screw head brads
Brown and dark grey inks
All cute on my AMAZING Sizzix eclips using SVG Cuts files with my eCal software!
Thanks for stopping by!! I have a 'yummy' project to share tomorrow that I created for Epiphany Crafts!