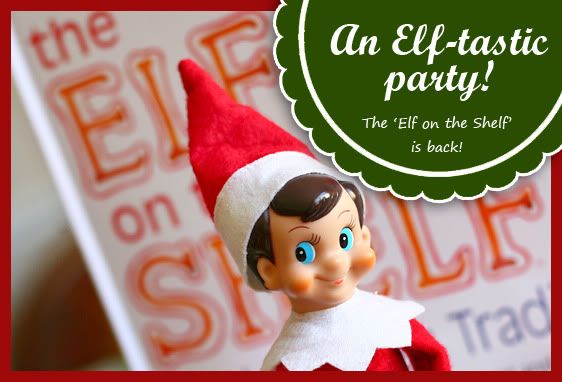 Yes, this creepy little doll has returned from the North Pole! It's a strange looking lil' thing, eh?… The is 'The Elf on the Shelf', a tradition we started last year! My kids LOVE it! They were so bummed when the elf 'Cliff' left last Christmas Eve and they have been asking if the elf will return this year… They've been asking since October! LOL! I am the type of mom who gets overly excited about things that my kids are excited about (well, I am sure most moms are like that, lol).. So.. I planned an ELF PARTY! I was inspired by THIS 'North Pole breakfast' that I saw on Pinterest. How cute, right?!
I have been planning this stinkin' party for a month now, just slowly gathering things here and there, and well.. next thing I know, it's a mini Christmas practically! LOL! I always love to give the kiddos their holiday themed stuff a month or so in advance so they can enjoy it through the proper holiday and such. I mean, it seems pointless to me to give elf jammies and Christmas stuffed dolls on Christmas (this is what I tell myself to justify my craziness, lol.. Just agree with me.. K?).
So, time for the LOAD of pictures… seriously, there are so many pictures in this post, it's borderline ridiculous! LOL! I just wanted to capture every little detail. I promised myself I would start scrapbooking next year.. I mean, I don't know very many paper crafters that don't scrapbook, or at least have tried! I can build a darn carousel from paper, but I am scared to scrapbook, lol.. psssh! So, now when I take pics of the kiddos, I think how it would work in a layout, lol.. Yes, another thing to add to my 'crazy issues' list.
Before we get on to the fun.. you may notice that Alannah, my 6yo daughter, is missing from most the pictures.. well, here's my (well, HER) luck… I had this all set up so when they woke up in the morning, it would be a huge surprise. Yeah, huge surprise alright! My sweet Alannah bug woke up VOMITING! Really.. I mean, really?! Egh.. I felt AWFUL! This was already set up, so I couldn't just take it all away.. you know? She sat out on the couch for most of it because her belly hurt. She tried to sit at the table with us a few times, but it didn't last long. Thankfully, she is MUCH better now… It was just a weird bug or something I suppose.. no fever, etc. So weird! I am going to plan a special little Build a Bear trip or something for her to make up for it. She was so bummed out.
OK.. picture time!
The night before the elf came, we watched the 'Elf on the Shelf' special and I surprised them with these adorable elf jammies and slippers! These are their 'silly elf faces'.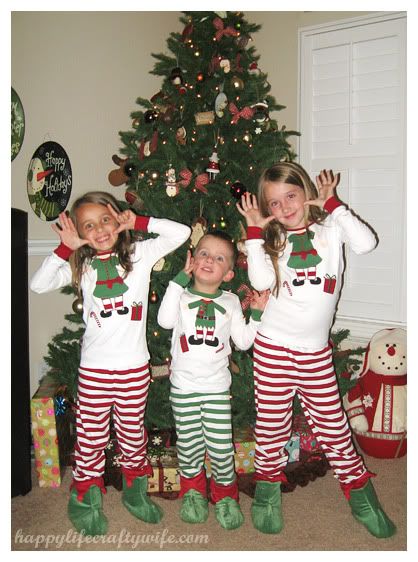 Jammies and slippers are from Gymboree..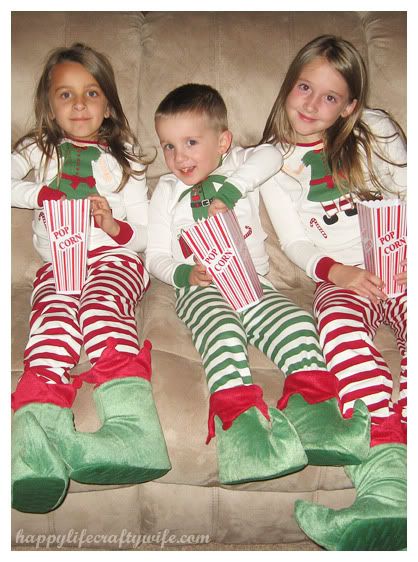 They enjoyed some popcorn while watching the story about the elf! Before bed, the girls talked into the 'Santa cameras' (AKA: smoke detectors) and begged Santa to send a GIRL elf this time! Thankfully, I was one step ahead and bought the skirt for our elf! Yes, Cliff has become a cross dresser and his stage name is 'Snowflake'.. LOL!!!!!
Once the kiddos were fast asleep, some magic happened and 'snowflake' the elf arrived.. in style.. with an empty wallet.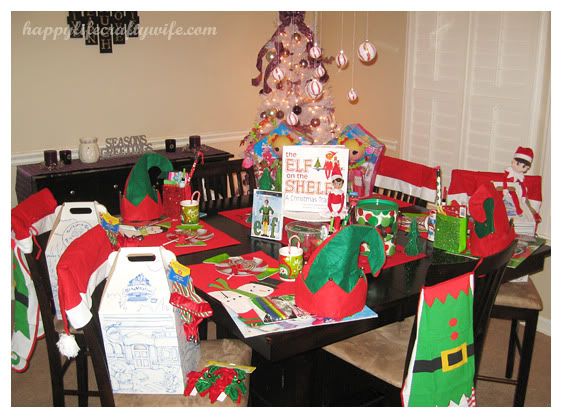 ( I told ya it became a mini Christmas!! lol)
I didn't catch them seeing it all, sadly.. but it was awesome!! they were SO excited! Austin was running in circles! (not that he doesn't do that almost daily anyways! lol)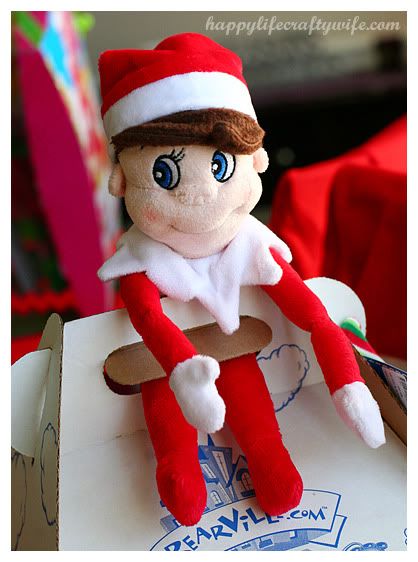 Austin got his very own plush boy elf.. his name is 'Buddy'! I got this because I just knew he would want to touch 'Snowflake' and well, if he did that, her magic would go away! So this is a perfect cuddly solution!
Plush elf can be found at Target, Amazon, Hallmark.. or eBay! Not sure where else? Super cute!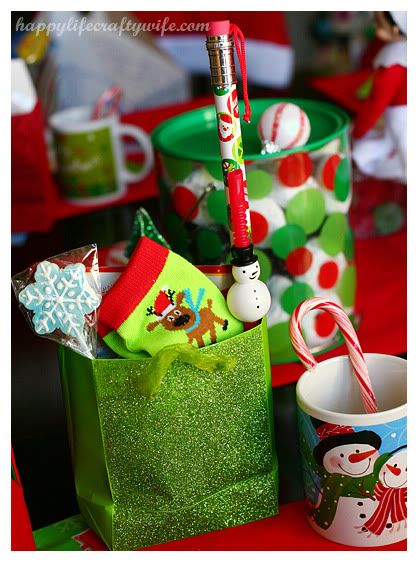 The kids all got little bags of goodies. Socks, 'snowflake' suckers, Christmas silly bands, holiday pins and bracelets. Austin got a special holiday version of a Lightening McQueen!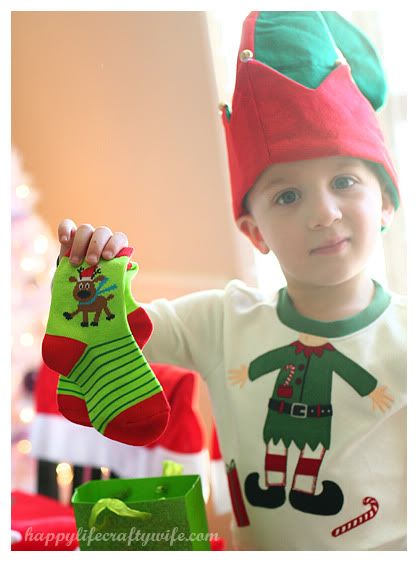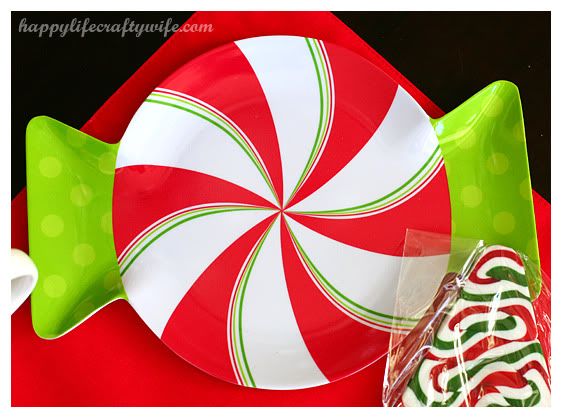 Large sucker and plates from Michaels!
Small velvet coloring set from Michaels and giant coloring books are in the $1.00 bins at Target!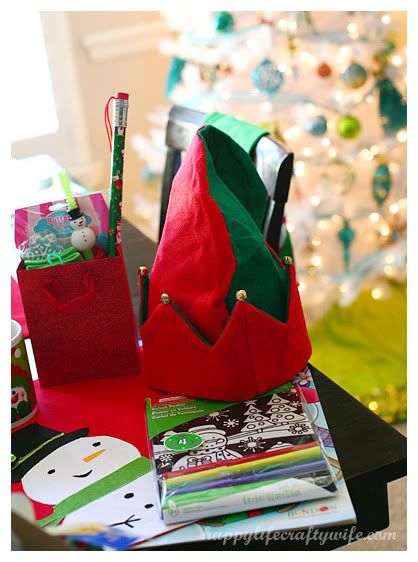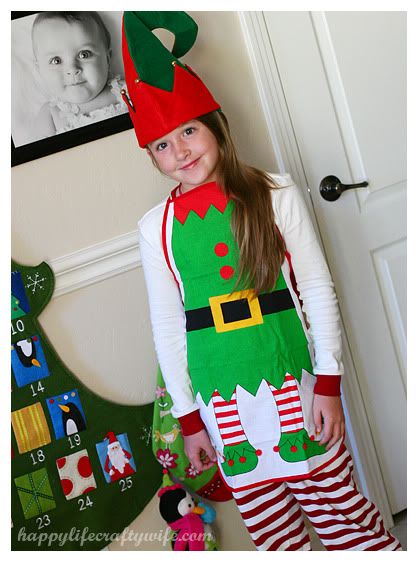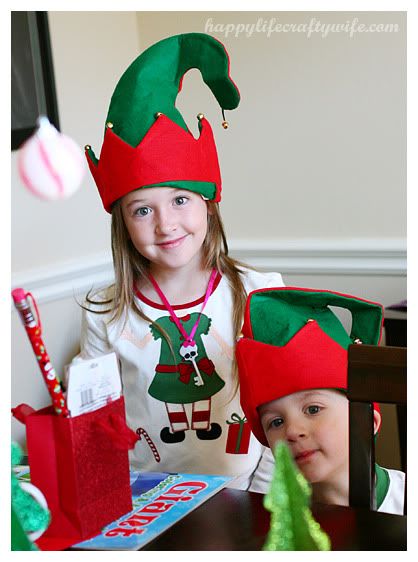 Hats and aprons are from Oriental Trading Co. (I even got an apron!) Good prices, too.. Apron is pretty thin, but for holiday baking, it will work fine!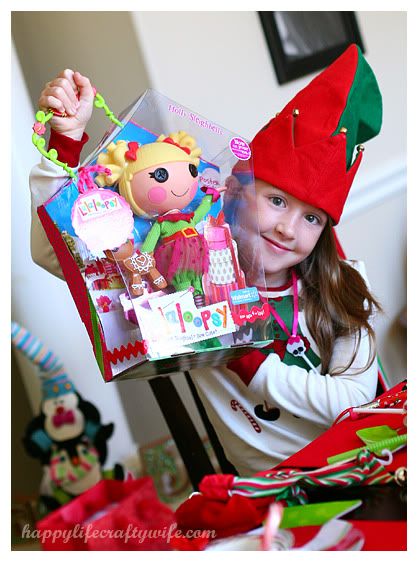 My girls both LOVE Lalaloopsy (so do I!) so of course they both needed a Holly Sleighbells! She is SEW cute! (From Walmart.. they also make a mini version which you can get at Target)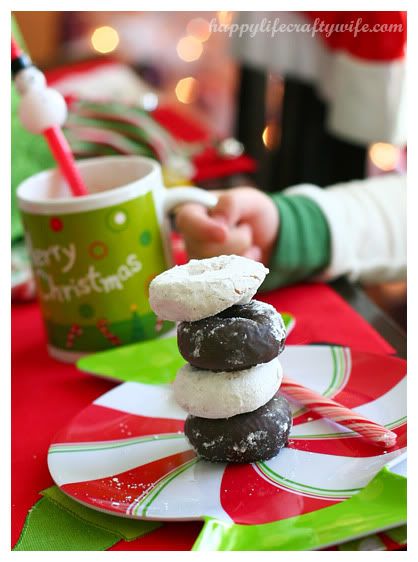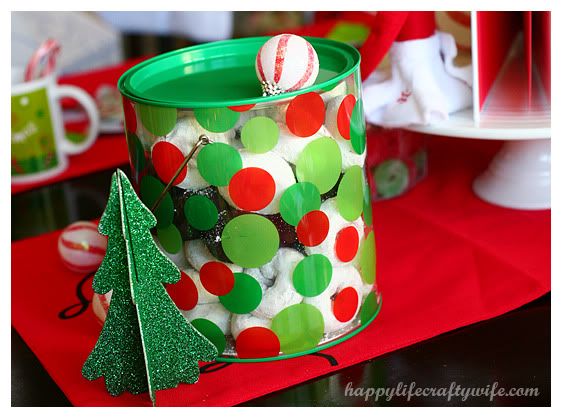 The elf brought some yummy treats! (gummies, hot cocoa, and 'snow'nuts!)
Bucket is from Hobby Lobby.
The kiddos really loved the doughnuts and cocoa!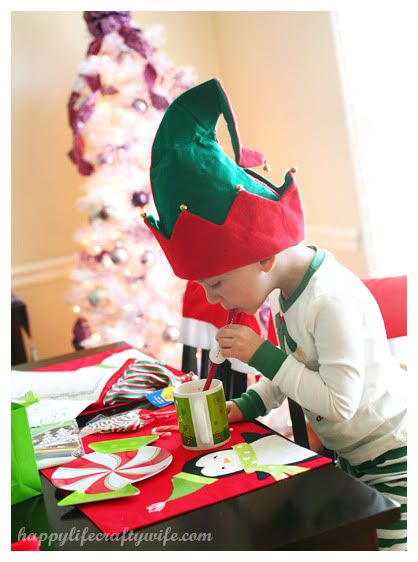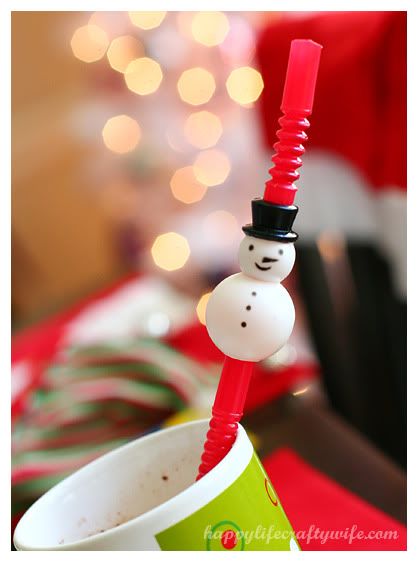 Straws and mugs are from Michaels.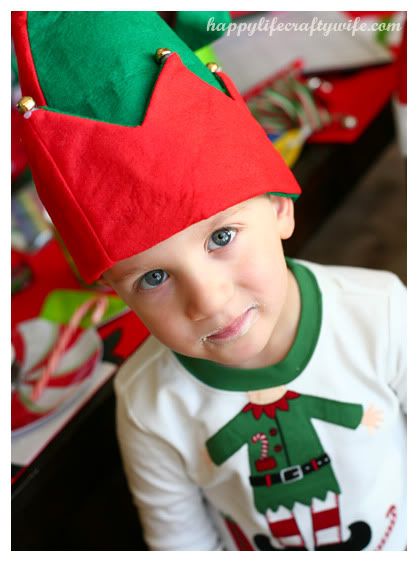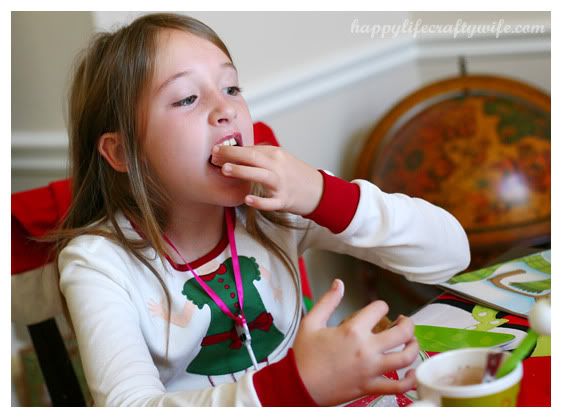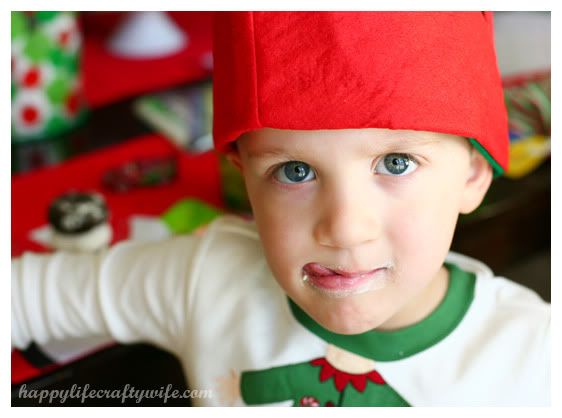 The elf also knew how much the kiddos like Build a Bear, so she brought them so new fur friends!
There's Alannah! Still so sad she missed out on so much
She got Rudolph to go with her Clarice from last year. They talk to each other, VERY cute! Austin and Autumn got gingerbread people.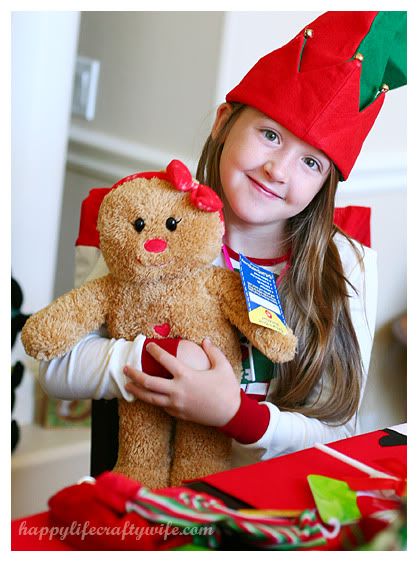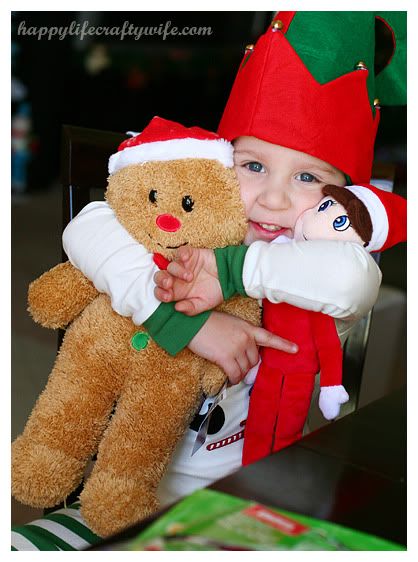 Rudolph came with a clothing change!
And of course we couldn't leave out the kiddos' other stuffed friends! They got some new holiday gear, too!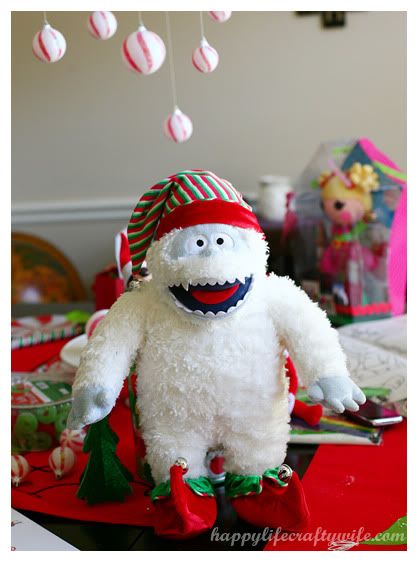 My poor girlie on the couch.. sorry she is all blurry, didn't realize that when I snapped the pic earlier.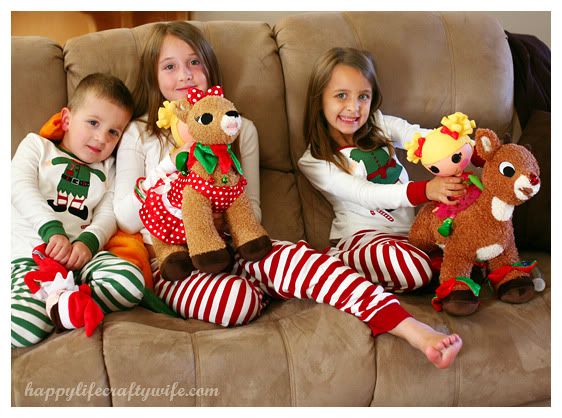 Then, when she felt better this afternoon, I was able to get a 'happy' picture.
The kids loved playing with their new friends!… Austin read some stories (and no, this was NOT staged! Can you believe the cuteness?!)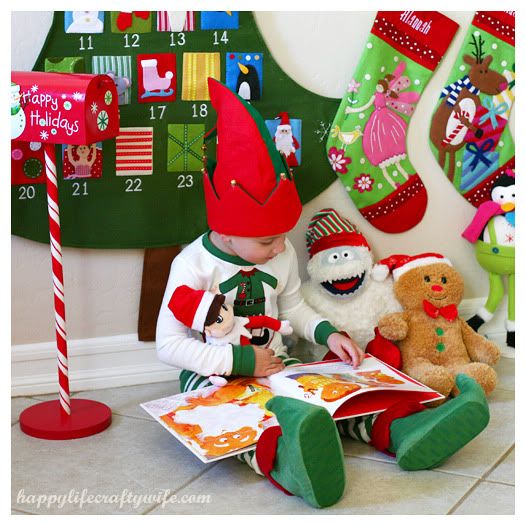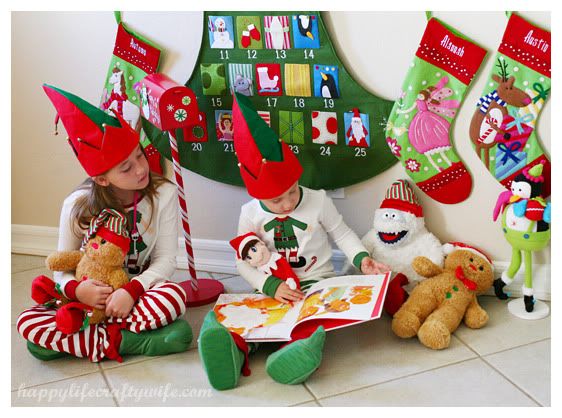 Buddy the elf really enjoyed playing Angry Birds with Austin!
That's it!! (I know.. finally, right? lol) We had SO much fun! (Just wish my little Lana wasn't missing out) It lasted all morning and they have been playing 'Santa's workshop' all afternoon/evening after Alannah started to feel better.. This little elf party thing might be a new tradition.. but might need to scale it back a bit.. maybe.. muahaha! lol..
Anyhow, see that tree advent behind my kiddos, I am SO excited to get started on this.. isn't it pretty cool?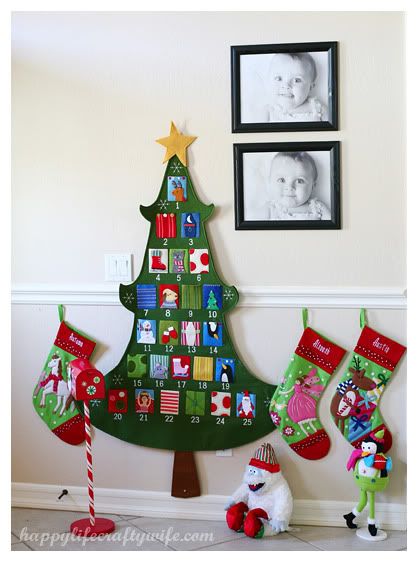 And yes, my kids stockings are hung by a tac on the wall, lol. I didn't want them by the fireplace since we use it almost daily and they would get dirty. They love their little 'kid area' by the door..
Before I leave, I just wanted to share a photo of my latest tree! This is my 3rd full sized tree.. love it! (yep, we like trees in this house!)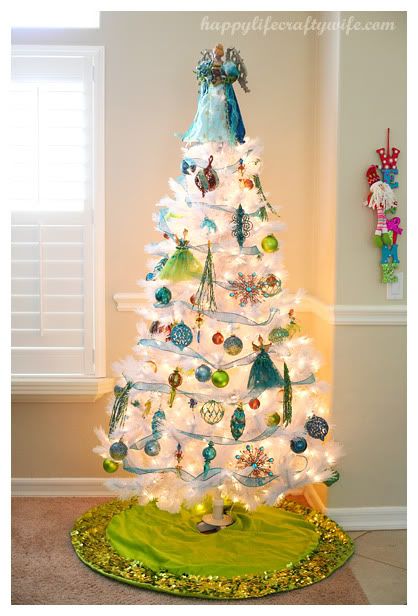 Alrighty my crafty friends, thanks for stopping by and letting me share our fun family tradition! Feel free to pin any ideas you like to your Pinterest boards!
Pin It