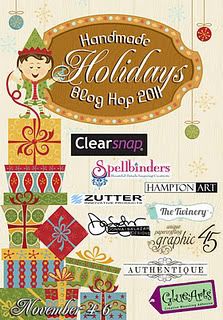 Calling all crafters! We've gathered designers from some of our favorite manufacturers to show you ways to create something from the heart this holiday season. This 3 day Hop (That started Friday!) includes over 60 stops with inspiration brimming from every corner. Explore all thoughtful and frugal handmade gifts you could make for the holidays, all in one place on this Hop! You MUST check them out! There is some crazy talent out there!
For my project, I decided to make a decorative gift! How fun is this?! Great for a centerpiece! I know it's a bit 'busy' and over the top, but it matches some of my decor and I wanted it to be 'fun'!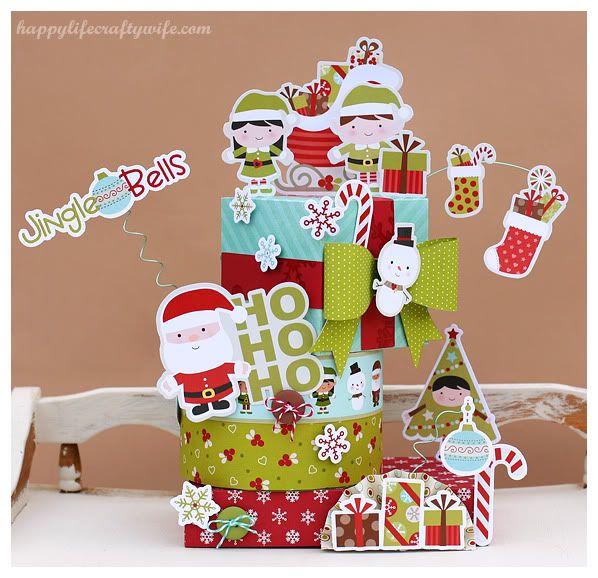 Fun, right?!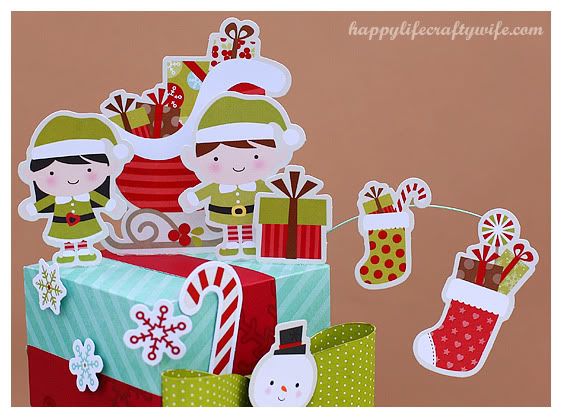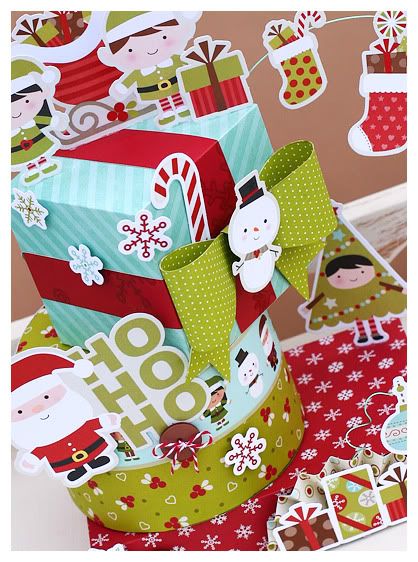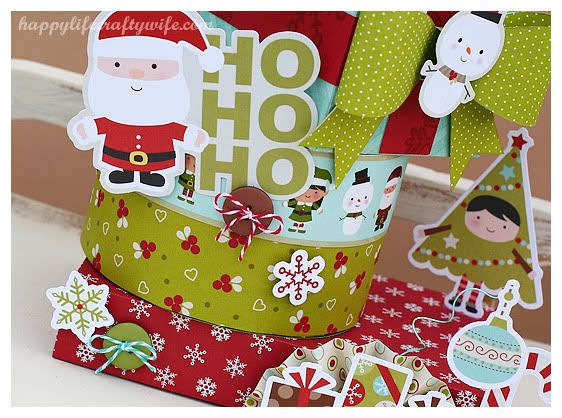 SUPPLIES:
Glue Arts Glue Glider Pro PermaTac cartridge
Glue Arts PermaTac Mounting Squares
Glue Arts Foam Adhesive
Glue Arts hot glue and hot glue gun
Score board to create boxes
20 gauge jewelry wire
Imaginisce Santa's Little Helper die cuts
Imaginise Santa's Little Helper Paper
Basic buttons from October Afternoon
DCWV striped holiday paper
The Twinery twine
Wire cutters
Paper trimmer
Scissors
BASIC DESIGN:
I started off with the idea of stacked presents and built a base. I trimmed and scored my paper to create a box for the bottom. I cut a hole it in with a craft knife and used a dowel rod with some hot glue and stuck it through liek so.. this creates an even more stable base (it would be stable with glue alone, but I wanted it extra secure!)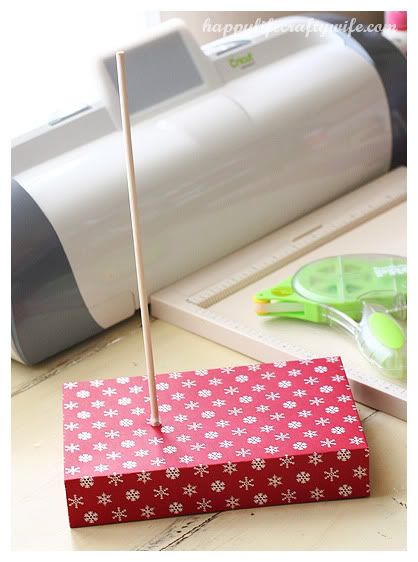 Then I created a 6″ round box and a 4×4 square box. Again, poke holes and use a dab of hto glue to secure in place. After that I created a ribbon trim for the square and round boxes. I then added a 3D box created from an SVG file from My Grafico. Once I had the base created, I started adhering the Imaginisce die cuts! So many fun die cuts to choose from! Use 3D Glue Arts adhesive foam and some jewelry wire to make things 'pop'.
I hope this little project inspires you to create a fun decoration for yourself, or as a gift!
Now.. to the goodies!
To sweeten the Hop, we're offering a gift for you! For every comment you leave on the blogs in the Hop, you'll be entered to win a prize pack from one of the participating manufacturer sponsors! As for what you could win from my blog, A great prize pack from GLUE ARTS! You could win an  Embellishment Kit plus a PRO Handle and a new PRO+ Perma Tac Cartridge. (est. retail value is $45!)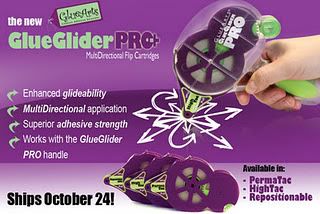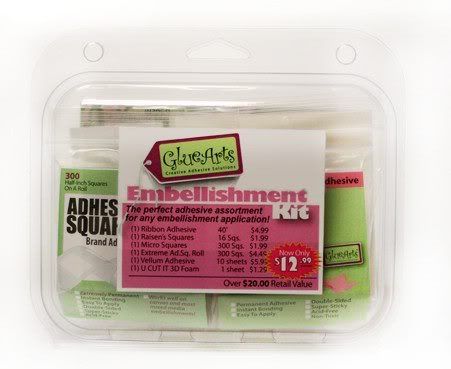 Visit the list of blogs below and leave a comment on each by Nov 7, 2011 at 11:59 PM PST.
Clearsnap – http://clearsnap.blogspot.com
Spellbinders  http://www.spellbinderspaperarts.com/Community/Blog.aspx
Hampton Art – http://blog.hamptonart.com/
Zutter – http://binditall.blogspot.com/
Graphic45 – http://g45papers.typepad.com/
Donna Salazar Designs – http://donnasalazar.typepad.com/
The Twinery – http://www.thetwineryblog.com/
Authentique Paper http://authentiquepaper.blogspot.com/
Glue Arts – http://gluearts.blogspot.com/
Sabrina Alery – Clearsnap http://sabrinaalery.blogspot.com/
Laura Denison – Graphic 45 http://www.followingthepapertrail.blogspot.com/
Karen Taylor – Donna Salazar Designs – http://creativeyearnings.blogspot.com/
Beverly Sizemore – Hampton Art  http://bevscreativepath.blogspot.com/
Kazan Clark  – Spellbinders http://nunutoolies.blogspot.com/
Janeen Shember – Authentique Paper  http://suburbngypsy.blogspot.com/
Charlotte Jenkins – Clearsnap http://suepup.blogspot.com/
Grace Hester – The Twinery http://gracehester.typepad.com/
Nicole Eccles – Graphic45 http://nicoleeccles.blogspot.com/
Audrey Pettit – Donna Salazar Designs – http://audreypettit.wordpress.com/
Nan Paturzo – Zutter http://scrappynan.blogspot.com/
Jeannie DeGruccio – Authentique Paper  http://polkacabana.wordpress.com/
Tamara Tripodi – Glue Arts http://happylifecraftywife.com/ <—– YOU ARE HERE!!!
Julie Ranae Murray- The Twinery http://juliesopenwindow.blogspot.com/
Cheers to creating gifts from the heart this holiday season! If you liked my project, please follow my blog (on my sidebar!) and 'like' me on my FACEBOOK PAGE
Happy Hopping!