Welcome to the Carta Bella Paper Design Team Blog Hop! Join our Design Team on their individual designer blogs as they share their current projects using Carta Bella Paper products. Follow the blog hop list below to hop from one blog to the next. ONE winner will be selected from each blog to receive a Carta Bella Paper collection kit of their choosing. To qualify for the drawing, please leave a comment on each corresponding blog. All comments are due by midnight EDT on Thursday, September 27 to qualify. Winners will be announced on each blog on Friday, September 28 to be sure to check back to see if you won!
YAY!!! This is the very FIRST Carta Bella DT blog hop! So exciting! I still feel so lucky to have been asked to join this amazing design team with this new awesome company! *pinch me!* I hope you've been inspired from some of the projects you've seen already!
Today I have a fun treat bag set to share using All Hallows Eve! I Just LOVE a good Halloween collection.. and this one is.. well.. extra, extra good! lol!
So fun! I just got those ghost and spooky tree dies from Sizzix and HAD to use them! I love the look of those ghost floating around on the curled wire. I always say you can tell if it's my project as it will usually have a die cut, pleated trim, or rosette of some sort… but I think I need to add 'wire' to that list. I've noticed I've been using wire a lot lately!
Here's some close up shots..
I took the poison label sticker from the All Hallows Eve kit collection and ripped it up a bit and rubbed on some gray ink for a 'worn' look. Totally works for this project! I stamped the background of the bag with a Unity distressed dots stamp.
The cute skeleton hand flair button? That's from my shop, Paper Play Studio!!  And just for you all, I have a special code through this week only for the blog hop, use code CB15 for 15% off of ANYTHING in the shop. Good through Friday, 9/28!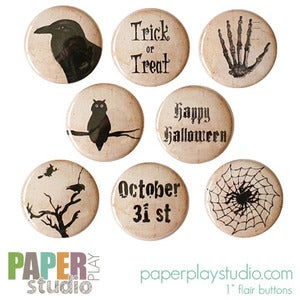 That gray and black twine is my FAVORITE right now for Halloween projects! It's from Trendy Twine!
And last here's the CUTE witch hat sucker holder. Fits a Tootsie Pop perfectly! This is a freebie file from SVG Cuts!
Hopefully this has inspired you for some fun Halloween treat packaging ideas!
Don't forget to leave comments on all the blogs to be entered for a chance to win a Carta Bella kit of your choice! We all are giving away a kit to a lucky winner! Tiem for me to send you on to the next DT member, Pam B.!
BLOG HOP LIST: