That's my boy.. Mr. 'tough guy'. From about 18 months old.. to now, 4.5 years old. Austin, my son, loves to 'flex' his muscles. My husband and I would always say in a 'cool guy' voice, "Oooh, Austin's a tough guy!". I ran across some pictures of him being 'tough' and decided to do a layout of my little dude with some new Doodlebug Designs 'boys only' collection. I LOVE these papers, one of my favorite boy lines, for sure! I played off of the arrows and stars and came up with this cute and simple layout. Yep. I like cute and simple!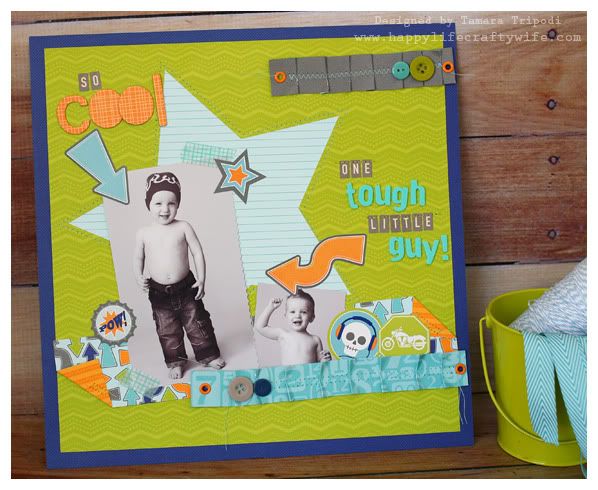 See him flexing those muscles? That's some serious stuff there! LOL!!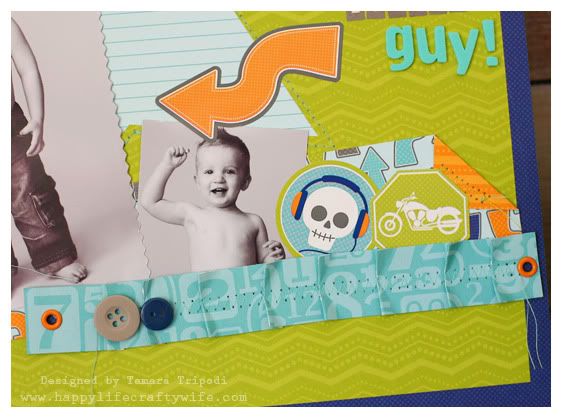 Yuuuuup. I've been throwing on a pleated trim on a lot of my projects lately.. I like it
This one is more 'messy' and done by hand. I stiched over it and added eyelets and buttons.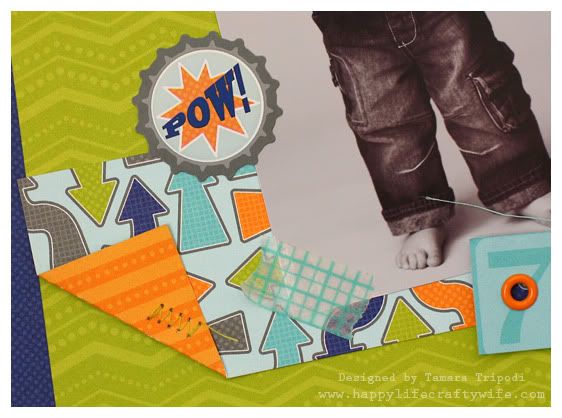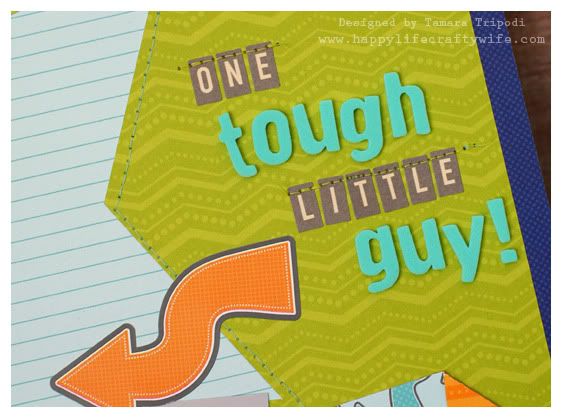 I have been starting to 'collect' Thickars.. I love the foam ones! (The aqua blue letters are 'thickars' they are foam alpha stickers). Fun stuff! I just ordered a bunch recently because Joanns had them on sale!
I did some stitching around the large star, which is kinda hard to see. I wish I had a dark blue thread instead.
Anyhow… I want to touch base about FACEBOOK.. GAH! Ever since the whole Timeline switch, my traffic on my blog AND on Facebook has been slowing down a LOT.. seems to be getting worse and worse. I know a lot of my followers use Facebook as a way to follow me and see when I make a new blog post. Well, that might not be such a great idea anymore (Now, don't go unliking my page! lol) Facebook is doing something odd with posts and filtering how often you see them. I noticed it from the pages that I like, even the ones I comment on often! Plus I now have had two people say they haven't been seeing any of my Facebook updates. I'm not sure WHAT is up.. but it's irritating. I want you all to see what I'm up to, darn it! So, I did some research.. and didn't really learn much, lol.. BUT.. I did see that if you want to see my updates, you should 'hover' over the 'like' button on my page, and then click 'Show in News Feed'. So…. if you 'like' my page, go on and do that! CLICK HERE TO GO TO MY PAGE.
OR, if you want to be extra sure you see my posts, just subscribe by email! Very easy! CLICK HERE TO SUBSCRIBE In the 'subscribe now' box, you can click on 'get Happy Life, Crafty Wife delivered by email'
OK, now… I hope that helps you all stay in touch a bit. It's sad to see things get a bit slow… me no likey talking to myself! I know we are all busy and such, especially with summer coming! I just wanna know you are all still out there.. sooomewhere, lol!
OK, crafty friends.. have a fabulous weekend! We are officially on summer break here.. oooh, yeah! *high five* and a *booty bump*.. oh. Was the booty bump a bit too much?.. Did I send you flying into a bush of thorns with my overly powerful booty bump?… lol.
Take it easy! Keep an eye out for SVG Cuts latest kit.. I know the theme already and it's gonna be AWESOME!! Perfect for a fun crafty weekend!
See ya!