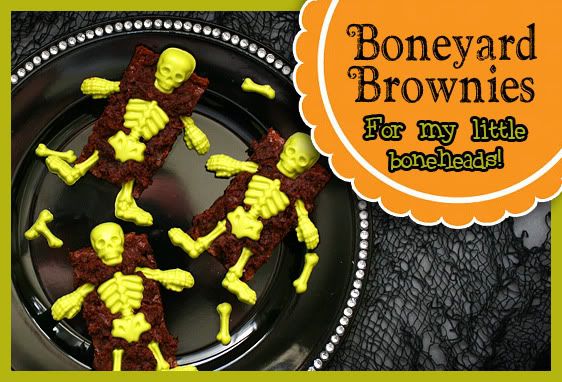 … Yes. for my boneheads.. and by 'boneheads', I mean children… And by 'children' I mean MONSTERS!!! (Yeah, it was one of THOSE mornings here today!)
I found this cute candy mold at Joann's recently and loved the little brownines shown on the front and I HAD to make them!
They were super easy to make, and the boneheads were so excited about them!
Here's some more pictures.. Yummy! Please, do not lick your computer screen!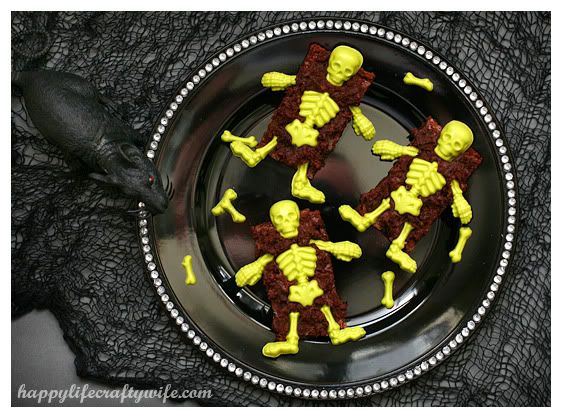 Yup.. that's my fat head you see reflected on the plate. Doh!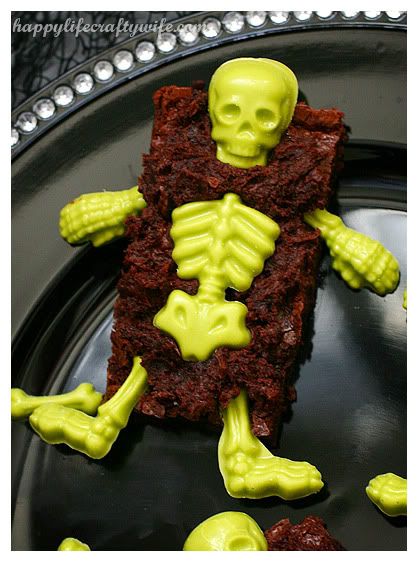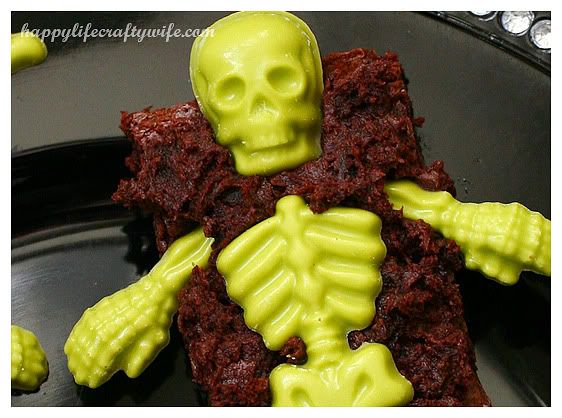 The bones are so cool! Dontcha' think?!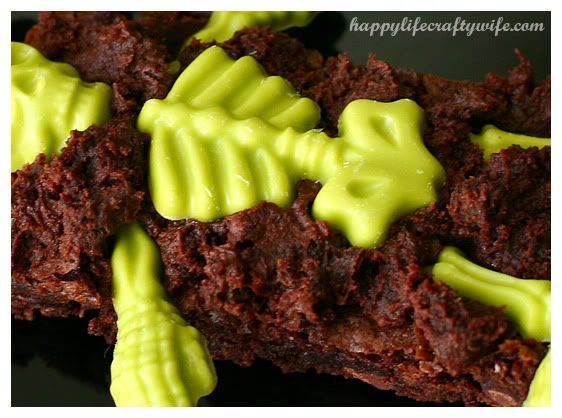 See that yummy gooey texture?…. Mmmmm!
Here's how I made them:
You will need two boxes of brownies. Bake one and let it cool. Bake the other in a 9×13″ dish, or something close to that size. You don't really want thick brownies because you're going to pile more on top.
For the first batch of brownies, once they are cool, dump about 3/4 of them into a bowl and mix with about 3/4 can frosting. I used fudge, but I think vanilla would be yummy, too! This is your 'mud'.
Cut your brownies. To use the bones like I did I found it best to cut them to about 2″ wide and 3 – 3.5″ long. I made a few smaller ones for the kiddos and just added 1-2 bones in a pile.
Once your brownies cool, add on the 'mud'. This is fun for the kiddos because it doesn't have to be neat!
Then, melt your candy melts (I used Wilton in Spooky Green!) and fill the candy mold. I did this four times and had more than enough bones!
Decorate the brownies! Easy peasy! And they look super cool, too!
Of course you can be all awesome and stuff and bake your own brownies and make your own frosting, but since I was being lazy (Hmm, I feel like I write "I was being lazy" too much lately.. lol)  I used all boxed stuff. Yes, I cheat..
Anyhow, just wanted to share! I have some other little spooky treats planned! Better get a jump start on your working out now because from now through the holidays I will be sharing all sorts of yumminess!
Also, I want to mention that the challenge I am hosting with Lori Whitlock is still going! We have extended the entries until this Wednesday since some people were having problems with the files early on. I hope you will join us! Click HERE for the post about the design challenge and how to get your freebie files.. AND see the awesome entries we have so far! And make sur eyou come back tomorrow because I will be having a GIVEAWAY sponsored by Glue Arts! Whoo-hoo!