Frog.. Toad.. whatever it is, it's slimy and ugly!
I take most of my pictures outside to get better lighting and I was just doing my thang when I got a little visitor…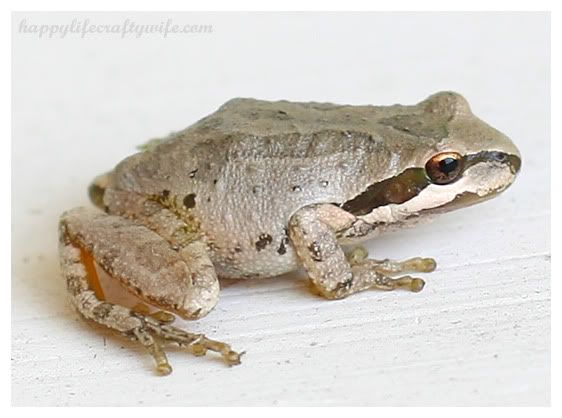 I tend to yell 'shut up' when things scare me.. and this was no different! This dude climed up the table leg and jumped right onto my table.. "SHUT UP!.. Ahhhhhh!!!"… Then it was more like, "Umm, hello.. I'm like, a million times bigger than you, GO AWAY!.." I surely didn't wanna touch him.. and I thought to tip over the table, but.. I mean.. I do have a heart and all, I didn't want to hurt him! Let's get real folks, he eats all the fugly spiders and bugs that hang around here. (Gosh, does my house sound nasty now, or what? Frogs, spiders and other random bugs. It's like a recipe for witches brew in my backyard!..) So what did I do?
I blew on him.
Yes.. blew on him.
He jumped and I am pretty sure he wanted to attack my face.
Anyhow.. I decided to just leave him on the table, there was plenty of room for us both.
Ha! The frog/toad thingy decided to come see what was goin' on..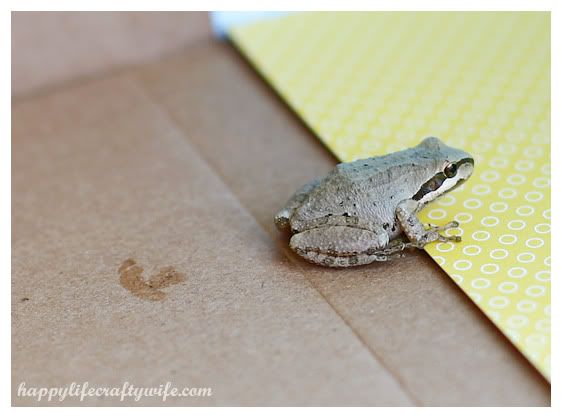 Yes, that's pee! The little punk PEED on my cardboard backdrop thingy! As Stephanie Tanner would say, "HOW RUDE!" Hmmph!
He kept on goin'…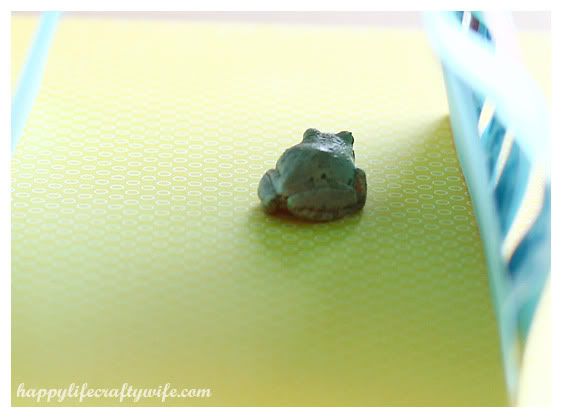 Seriously! This is sooo not your new home, buddy!
… And then he comes out the other side. So casually, like he owns this!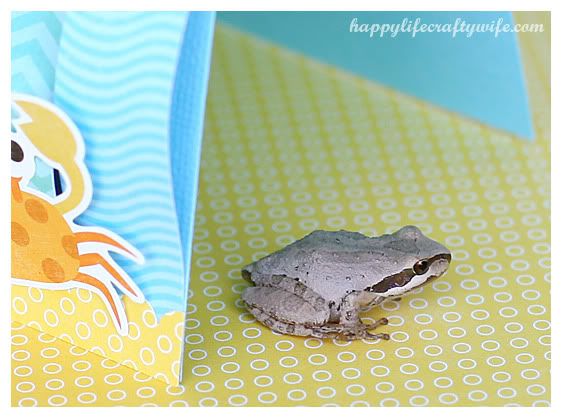 OK.. Bye?.. he jumped off the table and went on his merry way.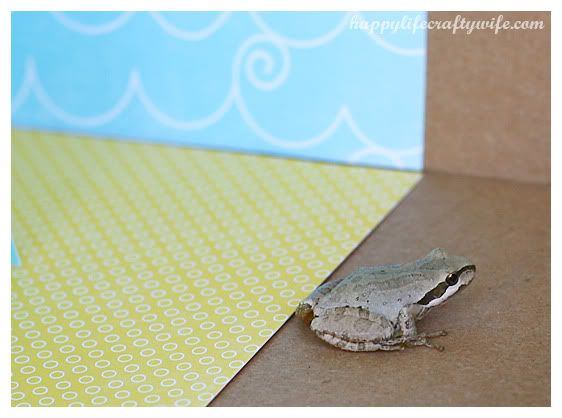 *shivers*
Is this not the weirdest blog post?… I mean… Who has frogs 'attack' when taking pictures of a card?
Oh, do you want to see the card?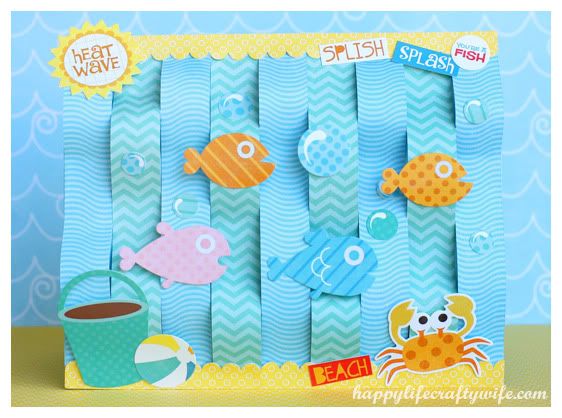 Yes, super simple! I cheated and used stickers. I really just wanted to make this card really quick and show you this technique! You can't exactly put this in an envelope as it would get crushed, but hey.. it's cool looking! Just cut yourself some strips of paper and get busy! I used my ATG gun and you lay the strips down and adhere them in sections and you just push them up a bit to create 'waves'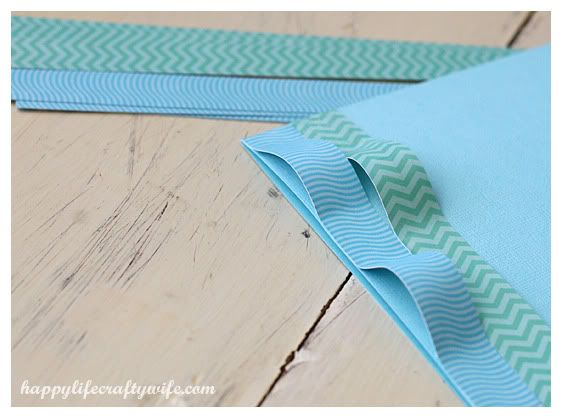 That's it! I hope you like it! I want to do other versions of this card with some SVG files or Print and Cut.. we will see if I actually get to it from my loooong list, lol! I've been doing a LOT of crafting lately! Kiddos are back in school and as soon as my little guy naps, I hit the craft area! Some nights I even 'pre-plan' my project and will have everything layed out the night before, lol. I know it seems like I have been doing a lot of cards lately, and well, that's beause I have! LOL! Just wait though.. I am designing some 3D awesomeness for Echo Park! I can't wait to share!