Eeeks! OK, here it is.. my very FIRST layout. GAH!!!!! *bites nails*
I am so nervous about sharing for some reason.. I mean, this is SO far out of my comfort zone, it's ridiculous! lol. I can make ya 3D hot air balloons, just don't ask me for a layout, LOL! And well, that's just what my DT coordinator at Echo Park did! I saw her at CHA and she asked me to start doing some layouts.. the nerve, right? LOL (Andrea, if you're reading this.. I *heart* ya!) So, I sat down and tackled it.. or, err.. tried to tackle it!
First I picked some papers I wanted to work with, and paper hoarder me had a hard enough time with that!
Then, I picked photos that might look cute with the chosen papers. I found some pictures from a photoshoot I did of my daughter, Alannah, in the first dress I ever sewed for her! I printed them in color and it just irritated my mind.. I had to make them black and white! Then, the sizing didn't work out for my 'vision' (Said 'vision' started as a sketch I drew up, which was quickly ditched. This 'vision' also changed a bajillion times!) So, after 3 sheets of photo paper, I had it, the right sized photos! Whew! That took a few hours, no joke! I am BAD about printing photos of my kiddos, so to go through files amoung files to find 'the' photos was a workout in itself. (Yeeee-ah.. MY kind of 'workout' is sitting on my butt looking through photo files.. it's tough stuff, man! Especially with my crazy mess of a desktop!) Next thing I knew, the girlies were home and craft time was over.
Then today rolls around. I get the monsters off to school, drowned myself in coffee, and got right to 'work'. It took a few HOURS! I don't have a set scrapbooking 'style' just yet, so I played around with placement and embellishments a lot. And while I did that, I learned a bit about my 'style'.
I don't like things perfectly centered, usually, and I like my embellishments in 'clusters' I do it with my cards, too. Once I just did my 'thing' and didn't try to force something that wasn't 'me' it all worked out, and I have a totally acceptable layout! It might not be everyone's style.. but it works for me. And hey, it's my first layout and I somehow managed to keep all my fingers, so that's a plus, right?!
Here it is, TA-DA!
Eeeek..
Says in little mouse voice… "Whatcha think?"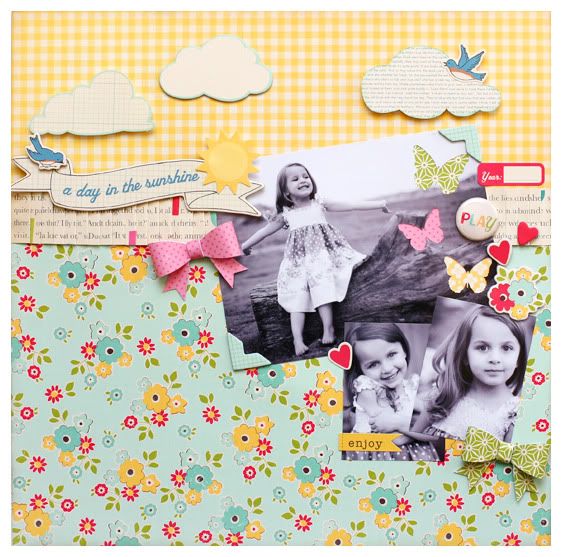 *hides under desk*
LOL…
OK, seriously… all you 'seasoned' scrappers.. Can I do this? Can I be in the cool kids scrapbooking club?
Do you have members only jackets?..
In pink?.. I hope?
Satiny pink?
Perhaps with some bling?!
*smiles*
Here are some close up shots.. I used October Afternoon's 'Sidewalks' collection.. looove!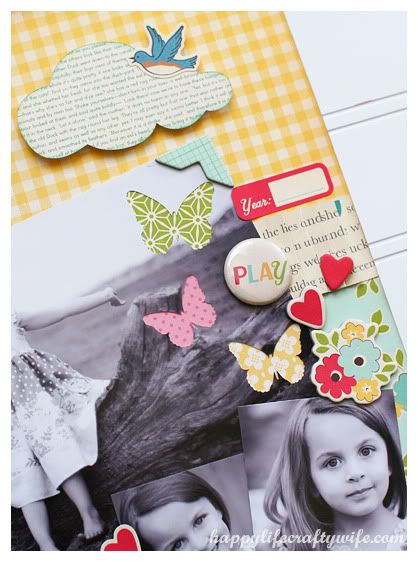 The butterflies are actually cut from the photo.. and backed with patterned paper. You can tell in person, but to me, in the photos, it just looks like die cuts adhered to the picture. I tried to snazz it up a bit, lol. My nifty laser cut preview on my Sizzix Eclips helped me make sure I got my placement just right! And of course I used my 'go to' butterflies from SVG Cuts!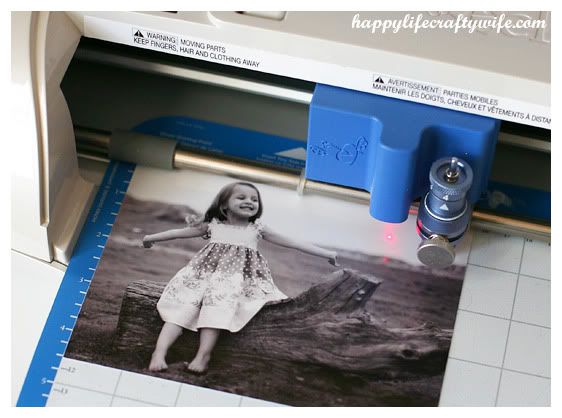 And some more close ups..
3D bows.. they can be flattened a bit to go in an album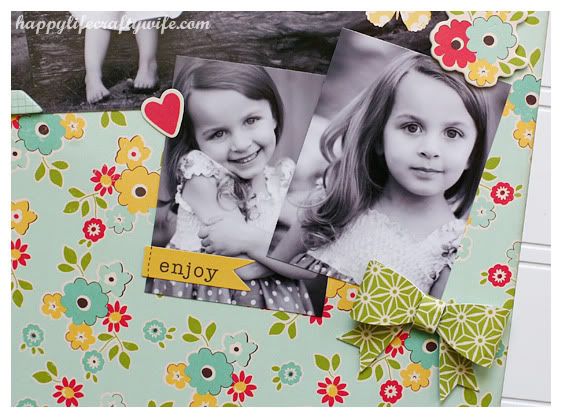 The 'book print' paper is pleated.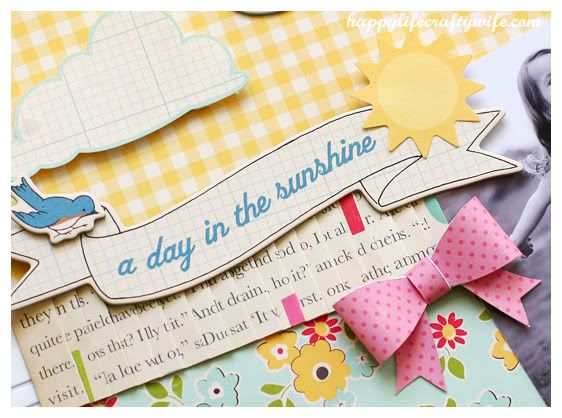 Whew! I feel a major sense of accomplishment, lol. It's not an award winner, by any means.. but it's a decent start! So.. look for more layouts from me in the future!
Have a GREAT 'Scrappy' weekend!

Pin It